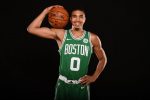 DURHAM, N.C. –  USA Basketball has announced its final roster for the 2019 FIBA Basketball World Cup, with former Duke Blue Devils Jayson Tatum and Mason Plumlee picked for the 12-man USA squad. The World Cup begins Saturday in Shanghai, China.
Tatum, who played for Duke in 2016-17, will make his first career World Cup appearance. In a pair of tune-up games against Australia last week, Tatum scored 16 points, gathered five rebounds and dished out five assists. A 2013 Duke graduate, Plumlee is making his second World Cup roster, as he helped Team USA win gold in 2014. Plumlee recorded seven rebounds and tallied two steals in the tune-up games against Australia.
The final USA roster includes Harrison Barnes (Sacramento Kings); Jaylen Brown (Boston Celtics); Joe Harris (Brooklyn Nets); Brook Lopez (Milwaukee Bucks); Khris Middleton (Milwaukee Bucks); Donovan Mitchell (Utah Jazz); Marcus Smart (Boston Celtics); Myles Turner (Indiana Pacers); Kemba Walker (Boston Celtics); and Derrick White (San Antonio Spurs).
The World Cup, which begins Saturday, August 31 and runs through September 15, consists of 32 teams from four confederations. USA opens competition against the Czech Republic on Sunday, September 1 at 8:30 a.m. in Shanghai.