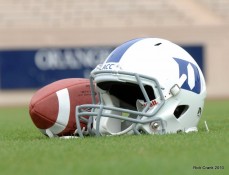 This week's coverage starts with the 2013 in-state commits and 2014 prospects as the North Carolina High School Athletics Association (NCHSAA) playoffs kicked off on Friday night. The North Carolina section looks at three verbal commits and two recruiting targets.[private]
Breon Borders [Statesville (10-1) versus Enka (5-6)]: Cornerback Borders intercepted a pass in the third quarter as Statesville advanced to the second round with a 65 - 12 rout of Enka. "We won big. They didn't throw to me at all, but I expected that," said Borders. "The one time they did throw it I intercepted it."
Quay Chambers [Monroe (8-3) versus Bishop McGuinness (5-6)]: Chambers threw two touchdown passes as Monroe blitzed McGuinness 69 - 0.
Bryon Fields [Charlotte Providence Day (7-4) at Country Day (9-1)]: Providence Day won 24 - 14, and cornerback Bryon Fields described his game performance as follows: "I had 200 plus yards of total offense with 190 on 13 carries, mostly out of Wildcat. And I had several tackles and a pass break-up on defense. We play Charlotte Christian next week for the private school State Championship."
Josh Cabrera [Jacksonville Northside (11-0) versus Croatan (6-4)]: Wide Receiver Cabrera caught two touchdown passes as Northside defeated Croatan 47 - 10. Overall, he had three receptions for 64 yards with the touchdowns covering 12 and 10 yards. Cabrera also caught a 2-point conversion pass after Northside's fourth touchdown.
Kendall Hinton [Southern Durham (6-4) versus Wilmington Hoggard (8-2)]:  Quarterback Hinton threw two interceptions in Southern's Durham's 28-26 defeat at the hands of Hoggard.  When added to a fumble and a missed PAT, there were just too many mistakes for Southern Durham to overcome. Their season ends at 6-5.
Back to your regular scheduled coverage:
In Virginia, Jake Kite and Evrett Edwards were in action attempting to help their teams secure spots in the upcoming VHSL playoffs.
Kite had a big game as Hidden Valley defeated Cave Spring 21 -12. He ran for a 20 yard touchdown on a reverse. "We earned a first round bye for getting the win last night," said Kite. "I had two rushes for 62 yards and nine tackles."
Woodbridge knocked off previously unbeaten Stonewall Jackson 17 - 7. "We beat the ninth ranked team in the state to clinch a playoff berth," commented Edwards. "I had an interception and three tackles."
Moving south to Florida, Johnell Barnes and his Dunbar teammates improved to 8-1 with a 35 - 0 victory over Booker, while T.J. Douglas led Fort Myers to a 48 - 7 win over Bishop Verot.
"It went well," Wide Receiver Barnes said. "We won 35 - 0. I had two catches for about 65 yards and a touchdown. I played quarterback mostly the whole fourth quarter. District champs."
Douglas and his Fort Myers teammates failed to qualify for the post season.
In Georgia, Walker improved to 9-0 on the season with a 20 - 3 win over Mount Paran Christian. Defensive Tackle Mike Ramsay was ejected from the game for a late hit out of bounds. He describes the play, "I had a couple of really nice tackles, but I got tossed...I ran the kid out and we were both falling - it was an awful call in the middle of the fourth quarter, but an amazing game."
Down in Texas, offensive lineman Sterling Korona and his Reagan (San Antonio) teammates defeated Churchill 37 - 24. "Our offensive line had a monster night," Korona said. "Our running back, Elijah Ball, had 330 yards and three touchdowns, and our quarterback had two touchdowns on the three or four passes he threw."
Also in Texas, offensive lineman Austin Davis and Mansfield prevailed 27 - 20 over Cedar Hills. Davis commented, "We have won four straight and are doing great as a team!"
Out west in California, wide receiver Darren Andrews and Bishop Amat fell to Notre Dame 49 - 28, while running back Joseph Ajeigbe and Norco defeated King 29 - 8.
In Pennsylvania, for the second week in a row, 2014 recruiting target Shai McKenzie rushed for six touchdowns. His Washington (PA) team defeated Shady Side Academy 47-12 in WPIAL Class AA playoff action.[/private]