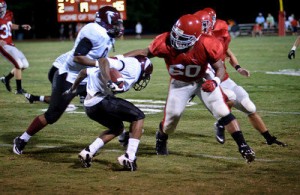 The Duke coaching staff got an early start in targeting a group of top defensive linemen in the class of 2012 and have remained aggressive in their pursuit of these athletic prospects throughout the spring. The Blue Devils have been recruiting Woody Baron since the beginning of the year, and the big pass-rusher has been "talking to Duke a lot lately." At 6'3" and 252 pounds, Baron had a huge junior season at defensive end for Brentwood Academy, totaling 50 tackles and 17 sacks, which earned him a Finalist nomination for Mr. Football in Tennessee, along with All-District and All-MidState honors. College football is not new to Woody, as his uncle played at Virginia Tech, another ACC school that has been in pursuit of the athletic lineman. With over half a dozen scholarship offers in hand, Baron is looking to finish up his recruiting process soon.
[private]
BDN: Can you start off by describing your strengths as a player?
I think some of my strengths, I enjoy rushing the passer, and definitely my finesse and my speed are what I rely on. My work ethic is definitely what I go to, to get better at every aspect of my senior year.
BDN: What are some of the things you have been working on as you prepare for your senior year?
This summer I'm taking it back, a little bit of fundamentals, getting my steps together, making sure I'm not wasting any steps, trying to improve my speed going into this upcoming football season. Always getting stronger and increasing my flexibility.
BDN: What are your goals for your senior year?
For my team this year I just would like to win it all, go out with a bang, we just need to execute. As far as myself, I just want to get better every day, give these colleges the most I can when I eventually do commit.
BDN: What are the most important things you're looking for in a college?
When I look at schools, I look at the degree first. What kind of degree am I going to get from the school I'm going to? Then I look at the winning history at the school and what kind of defense they play.
BDN: Where do schools see you fitting into their defense?
Most schools are looking at me as a defensive end, but there are a couple of them that said they want to move me around a little bit.
BDN: Which schools have you had the most contact with so far?
This spring it kind of slowed down as we got out of school. I would say the ones that have been consistently in contact with me were of course Virginia Tech, I've been talking to Duke a lot lately, Vanderbilt, and Syracuse has been calling me a lot lately.
BDN: Have you had a chance to take any visits yet?
I've been to Virginia Tech, I've been to Vanderbilt since it's so close, and those are the only two that I've been able to personally go.
BDN: Have any schools stood out to you at this point in the process, either from your visits or your relationships with the coaches?
When you go through this process, every coach, you're going to get the good face of any coach that wants you to come to their school, but I've gotten the best vibes from Virginia Tech and Vanderbilt. They really, I really like the coaches, I've met them, I like the attitudes they have towards their players, not only the work ethic they have but they genuinely care about the players on their team.
BDN: Do you have an idea for how you would like to narrow things down and make your decision?
There are some schools that I could narrow it down probably in my head, but I need to do some research on some other offers that I have. So I'm debating on whether to commit before the season or during the season. I want to get it out of the way, honestly.
BDN: Is there anything else you think is important for college football fans to know about you?
I don't think so, I'm not that special. I do have an Under Armour All-American nomination.
BDN: Thanks a lot, Woody, and best of luck to you.
Definitely, I appreciate it.
[/private]