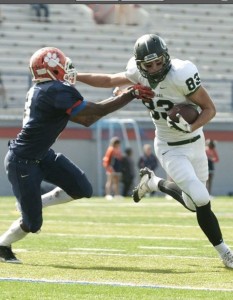 The Blue Devils have had a lot of success throwing the ball under Coach Cutcliffe and his spread offense over the past few seasons, including at the tight end position. With the graduation of Cooper Helfet, Duke hopes that their young tight ends Issac Blakeney and David Reeves will be able to help fill the void this fall, but the coaching staff continues to look towards the future on the recruiting trail.
One tight end prospect has recently caught the attention of the Blue Devil coaches, and was extended a verbal scholarship offer on a visit to Durham last weekend. Nathan Marcus is a 6'5" 220 pound tight end from Glen Ellyn, Illinois. After leading Glenbard West to a 10-1 record as a junior and receiving All-Conference and Academic All-State honors, Marcus has seen his recruitment take off this spring, collecting scholarship offers from Boston College, Duke, Indiana, Northwestern, Toledo, and Wake Forest, along with interest from several other schools, including Illinois and Vanderbilt. The Blue Devils hosted Marcus on an unofficial visit this past weekend, and hope he'll become the next big pass-catching tight end in their spread offense. [private]
BDN: How would you describe your strengths as a player?
I'm mostly a wide receiver-type tight end. I like to get out in space and catch the ball, but I've also been used as a tackle for the youth football team, so I'm comfortable on the line and split out.
BDN: What are you working on this offseason and what do you hope to accomplish this fall?
Winning a state title, obviously. But personally, I'd like to see the ball more in the air and catch it and work on my blocking, trying to become a more well-rounded tight end.
BDN: As you approach your college decision, what are the most important things you are looking for in a school?
Definitely being able to compete football-wise, and then off the field, academically, because once the football ends, I'd like to be able to have a good job and have a degree from a very good school.
BDN: Which schools have you been hearing the most from and where do you stand with offers?
Who has been contacting me most would be like Vanderbilt, Northwestern, Illinois, those are like the main three, and also Boston College. Now, once I've visited Duke and Wake Forest, they've both offered me and I'm pretty liked with them too.
BDN: Which schools have you had a chance to visit?
I went to Duke and Wake Forest and now I'm at Vanderbilt right now. I really liked both Duke and Wake [Forest], they're pretty similar. I'm not really sure if I'm going to see any more [schools], because they're both pretty high up there and I'm probably going to make my decision sometime soon, maybe late summer or early fall, I'll decide what school I'm going to commit to.
BDN: What was it that stood out to you about Duke and Wake Forest?
They're both pretty high-powered offensive programs, so you've got to like that as a tight end, and they both pass the ball pretty well, so you've got to like that as a tight end that likes to catch the ball. I really liked their academics, and it's kind of good to get away from Chicago and the snowy weather.
BDN: Thanks a lot, Nathan, and best of luck.
Thank you, it was nice meeting you.
[/private]