[private]Eron Riley has the potential to score on any possession when he's on the field. Riley hauled in a career high 9 touchdowns last season to go with a 20.8 average. Riley took the time to talk about his team and the enthusiasm surrounding Duke Football going into the season opener against James Madison.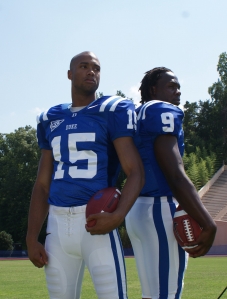 It's game week! What are your thoughts on Saturday's game?
This is what we've been waiting for since our loss to Carolina in November. All these off season workouts we're running will pay off. We're ready to hit somebody besides our own teammates.
Coach Cutcliffe said Duke just wants to concentrate on Duke and not so much James Madison. Is that the way you feel?
We can watch tape and prepare, but we will control what we can go and we'll go out there and play our game and we feel like things will take care of themselves. It's my last season and we have a new coach and a new enthusiasm around campus, so I'm excited and hope we have a good crowd this Saturday.
What changes will fans notice that is different than in years past?
We'll play a lot more people and run a lot more formations. We'll spread the ball around – a lot of people will have the ball in their hands.
You have a new offensive system. Do you feel like you've got it down pat?
When he got hired, we had our playbooks first thing. We spent a lot of time in our playbooks mentally. So by the time took it to the field we picked up pretty quickly on it.
Is there a noticeable difference in the excitement level on campus?
A lot more! Even on our first day of class, people were asking are you ready for the game. Many said we're going to be out there … just words of encouragement.
The students have moved back to the home side, in well, several years. How will it feel to have the Duke fans and students together?
I think it is really good to have the students behind us and hearing them cheering and yelling for us.
Do you like the new offense?
Yes, I really like it. I get to line up as a slot sometimes. It's versatile and I really like it. We use each others talents to make us better.
Is it important to win this game? Do you feel any pressure to win?
It's always important to win. Yes, especially with all the promotions and enthusiasm around campus. If we go out there and lose, people can say same old Duke. I feel like we have to go out there and make a statement.[/private]