[private]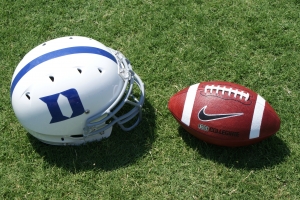 I caught up with LB Vinnie Rey, having a bit of one on one time with him after an intense practice.
Looks like you guys are going at it hard and preparing for James Madison ...
"We're working hard. It's like two jobs. It's a job in the film room and it's a job out here. The film room is a job to understand and learn the schemes. Out here you just have to run to the ball and finish."
You are going up against a multi-faceted quarterback. How do you prepare for that?
He's a very good quarterback ... good on his feet and throwing the ball also. We have a big job to do, but we can't forget that there is ten other guys out there on his team who can play as well.
You stepped up big time last year. Have we seen the best of Vincent Rey yet?
No sir! I feel like I've gotten a lot better physically. I'm learning the game a lot better under the new coaching staff. I feel that I just have to keep doing my job on defense. The better I do my job, the better I help my team.
You've been named team captain! What does that feel like in that the other three are seniors?
It's one of the biggest honors I've had in my life. And it's definitely a responsibility on and off the field.
What do you bring to the table as a leader?
I bring hard work. Every time I come out here I want to be the hardest working guy on the field.
Do you have a message for Duke fans?
Come to the game and you will be entertained. It's going to be a good game and we want your support.[/private]