Duke travels to Boston College for their ACC opener on Saturday at 12:30 PM ET on the ACC Network. Both teams are off to a disappointing 0-2 start to the 2011 season, and one will have the opportunity to turn things around on Saturday.
Boston College fell in week one to Northwestern at home, 24-17, and then traveled to Central Florida for a lopsided 30-3 defeat last Saturday. The Blue Devils have seen a similar share of disappointment, losing a close game to Richmond in week one and then Stanford 44-14 in week two. Both teams have been plagued by injuries and have struggled to score on offense, ranking at the bottom of the ACC in scoring.
The Eagles will be without star RB Montel Harris for the third straight game, and the Eagle offense hasn't looked the same without him. With a banged up offensive line and without a go-to wide receiver, Chase Rettig has struggled at quarterback, completing just over 50% of his passes so far this season. Andre Williams has been the lone bright spot, averaging 5.1 yards per carry and 86.5 yards per game, but he's been unable to shoulder the entire offensive load himself.
Defensively, Boston College is known for its physical play, epitomized by leading tackler Luke Kuechly at linebacker. With a depleted secondary and a shorthanded defensive line, however, the typically stingy BC defense has allowed 27 points per game, including 231 rushing yards per game. On the season, the Eagles are -2 in turnover margin, and are allowing opponents to convert 41% of 3rd down opportunities. In particular, the 2nd half has been unkind to the Eagles, as they have been outscored 35-7 after intermission.
While a few starters will return this week, the Eagles will need to put together a much better effort in all three phases to begin to approach the preseason expectations for this team. Given BC's struggles, the Blue Devils have an excellent opportunity to leave Chestnut Hill with a 1-0 ACC record if they can put together 60 minutes of good football.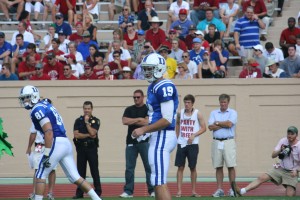 KEYS FOR DUKE
Control the line of scrimmage. Boston College's struggles have mostly been the direct result of losing the battle at the line of scrimmage. With injuries hampering BC's offensive and defensive lines, this will be an excellent opportunity for the Blue Devils to demonstrate their improvement at the line of scrimmage. Duke needs to do a better job protecting Sean Renfree and consistently opening holes for the Duke running backs. If BC is able to consistently get after Renfree, Duke will continue to struggle to score points. The young Duke defensive line was able to unsettle Heisman favorite Andrew Luck for a few series last weekend. They will have to duplicate that effort and bring consistent pressure at QB Chase Rettig, forcing him into poor throws and turnovers.
Establish Juwan Thompson early. Duke is facing a team that is allowing 231 rushing yards per game to opponents so far this season. With Desmond Scott and Josh Snead still sidelined, the powerful sophomore is left to carry the load for the Duke ground game. He's averaging 5.4 yards per carry on the ground, and against a suspect BC defensive line, he should be ready to have a career day for the Blue Devils.
Turn Renfree loose. Duke has moved the ball well at times this year, but has failed to open things up with offensive explosive plays. Establishing Thompson on the ground should open things up for Duke's talented receiving corps, who should be salivating over a depleted BC secondary. BC's linebacker's are the biggest matchup problem for the Duke offense, led by Kuechly and Kevin Pierre-Louis. If BC is forced to use them against the run, the middle of the field should open up for Conner Vernon, Donovan Varner, and Cooper Helfet. If Duke is to win this game, Renfree will have to hook up with one of his receivers for his first passing touchdown of 2011.
GAME ANALYSIS
As you might expect for two winless teams, the statistics are pretty similar, and pretty ugly. Neither team has had much success making plays to win games. With BC's injuries and offensive struggles, the Blue Devils appear to have more playmakers, and that could be the difference on Saturday.
Duke 3, Boston College 3
Duke already has three fumbles on the young season, while Boston College has thrown three interceptions. QB Chase Rettig can be pressured into poor throws if Duke is able to bring a consistent pass rush. The BC defenders are capable of delivering the hard hits that have forced the Blue Devils to put the ball on the ground. Simply put, the team that wins the turnover battle will be tough to beat Saturday.
Duke 2, Boston College 2
Neither defense has been able to get after the quarterback consistently so far this year. What's worse is that both offenses have done a poor job taking care of their own quarterback. Duke has allowed 7 sacks already in 2011, while Boston College has given up 6. Duke's offensive line will need to drastically improve its pass protection, or Sean Renfree will again find himself repeatedly on the ground. With their injuries up front, Duke's defense must take advantage of the Eagles' shaky blocking.
Duke 33%, Boston College 31%
Another dismal statistic for both sides. Both sides are converting around one-third of third-down opportunities while allowing opponents to convert over 40%. Luke Kuechly is the difference maker on 3rd down for BC, and Matt Daniels has been that guy for Duke. With two struggling offenses, the team that is able to sustain drives will find itself in good shape in the 4th quarter Saturday.

Explosives
Explosives comes down to playmakers. Lee Butler made an explosive 77-yard INT return for a TD last week, but it wasn't enough. Duke needs to open up the field on offense and get Vernon, Varner, Helfet, and Thompson into open space. Jamison Crowder and Lee Butler both have the potential to add explosives on special teams. For BC, it all starts with Andre Williams. He has to consistently break tackles and move the chains if the Eagles are to have more success on offense.

Rushing TDs
Duke 4, BC 2
Neither team has had much success putting points on the board, but when they do, it's usually on the ground so far this year. Duke has had three different players score on the ground, and Juwan Thompson will be looking to pick up his first on Saturday. Andre Williams is the primary threat for BC, and expect the Duke defense to key in on him.

Field goals
Duke 0/4, BC 2/4
With Will Snyderwine questionable, expect Duke to gamble more on 4th down than in the past. The kicking game is a complete question mark for the Blue Devils. BC would like to be more consistent, but they certainly have the edge in this matchup.

Penalties
Duke 7-52 yards, BC 11-73 yards
Duke continues to play disciplined football, though a few of their penalties have come at inopportune times, especially on offense. This is a statistic that the Blue Devils will have to win if they want to become a winning football program.
PREDICTION
Two winless teams with the lowest scoring offenses in the ACC will meet on Saturday, but only one will emerge a winner. The BC offense has looked lost without Montel Harris to hand it off to 30+ times a game. Duke's offense has moved the ball, but failed to score. The historically stingy BC defense has given up yards and points this year, while the Duke defense has performed better than expected, but inconsistently. In the end, Duke has too many offensive weapons for the depleted Eagles' defense, and the Blue Devils' defense should put together another strong showing against a struggling BC offense. Sean Renfree gets back on track and into the end zone in this one, and Juwan Thompson will have a third straight solid game on the ground.

Duke 28, BC 13