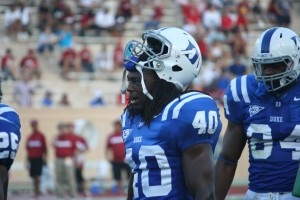 DURHAM- Matt Daniels and the Blue Devil seniors made their way out of the tunnel and into Wallace Wade Stadium for the final time on Saturday, but their best efforts came up just short against Georgia Tech as Duke fell 38-31. The Duke offense had success moving the ball against the Yellow Jackets, putting up 31 points and over 300 yards of total offense, but in the end, the Blue Devil defense just couldn't stop the Ramblin' Wreck option offense.
Duke final drive comes up short
Senior Charlie Hatcher came up with a crucial fumble recovery with 3:31 remaining in the 4th quarter to give the Blue Devils a chance, trailing by a touchdown. But two crucial penalties stalled the Blue Devils' final drive, and ultimately led to a controversial GT interception that sealed the victory with 2 minutes remaining. Two critical plays were reviewed in the game and not overturned in the Blue Devils' favor.
Vernon and Varner rewrite the record books
Duke senior Donovan Varner had a memorable Senior Day, adding to his lead in the Duke record books with 5 catches for 32 yards and 1 TD. Varner is Duke's all-time receptions leader with 199. Varner also set a new Duke record with a reception in 36 straight games. Junior WR Conner Vernon is 2nd on Duke's all-time receiving list with 196 career catches after finishing with 9 catches, 92 yards and 1 TD. On the day, Varner and Vernon became the ACC's top all-time receiving duo, passing Clemon's Aaron Kelly and Tyler Grisham. The duo will look to add to their records next Saturday in Chapel Hill.
Big plays haunt Blue Devils
Georgia Tech had 8 plays of 20 yards or more in just the first 3 quarters alone, as big plays continued to haunt the Blue Devil defense. After a 3 and out on the first drive of the day, the Ramblin' Wreck moved the ball with ease against the Blue Devils. On the day, the Yellow Jackets piled up over 550 yards of total offense, led by Tevin Washington, who finished with 185 yards through the air and 136 yards on the ground. Georgia Tech was perfect in the red zone, finishing with 5 rushing touchdowns and a field goal.
Inconsistent offensive attack
Sean Renfree threw for 4 TDs and 227 yards, but was erratic at times, finishing 26/42 on the day. Duke senior TE Cooper Helfet had himself a big Senior Day, hauling in 2 TD receptions. Vernon and Varner led the Blue Devils' receivers, but Duke struggled to get a consistent rhythm on offense, especially on the ground. Duke's running game was led by Varner, who picked up a 39-yard run on the offense's first play from scrimmage. The running backs failed to get going, with Desmond Scott picking up just 27 yards and Juwan Thompson just 24 yards on the day.
One shot left
Duke drops to 3-8 and will have one last shot to get to 4 wins and end their season on a high note. The Blue Devils will travel down 15-501 to Chapel Hill to take on the rival Tar Heels next Saturday at 3:30 PM. The Victory Bell will be at stake and the Blue Devils desperately need a win to gain momentum into the offsesason.
Check back with Blue Devil Nation for full postgame coverage.