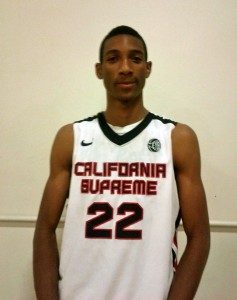 There are certain moments in life where, based upon your actions, your life changes. For 6'9" Marcus Lee of Antioch, California, his performances with his California Supreme team at the EYBL in Minnesota potentially changed the course of his life. After the event, scholarship offers flooded in from programs across the country.  His brother, Bryan, a former basketball standout at Grand Canyon University, and a recruiter for Google, has been the primary filter for Marcus's calls. One of the schools that immediately contacted Marcus following the EYBL event was Duke University.
Seven weeks later, Marcus is now scheduled to travel to Charlottesville, Virginia to participate in the NBPA Top 100 Camp. As the sixth-leading shot-blocker in the EYBL, Lee was instrumental in forging California Supreme's 16-4 record, which helped the team qualify for next month's Peach Jam in South Carolina.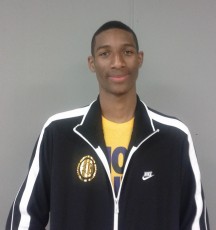 Recently, I spoke with Marcus about, among other things, that life-changing weekend in Minnesota, about speaking with Coach Mike Krzyzewski, as well as Bryan's reaction to the newfound interest in his younger brother.
What was your initial reaction when offers started coming in from all around the country?
I was pretty surprised. I thought I was just sort of settling in and then...
[private]
Did it change your life, to a degree?
Yeah, it did. Yeah, it changed everything. It changed it to the point where after school I was having a lot of phone calls coming in and I just don't have any more free time. (laughs)
 Do you like it?
Yeah, I love it! I mean I sometimes get headaches, but it's all worth it. It's been great.
What are you trying to gain or learn from your visits?
How they do stuff around each campus..I really want to talk to people. I feel that I've got a lot of questions for people. 
What does your brother think about all of this fuss? I remember that he was, in some ways, your guiding light.
Yeah, yeah, he's just trying to keep everything away from me… so far. 
Does he handle everything, for the most part?
Yeah, he handles pretty much everything. He tries to be supportive.
What was it like in the match-up with Jahlil Okafor? He's another recruit that I've spoken to a lot.
I thought it was great. He's really one of the toughest kids I've gone against. He's a really big kid, very fundamentally sound. It was a lot of fun.
One of the schools that has shown interest in you so far is UCLA. What do you know about them?
I want to find out more about them. I know a little bit about them because they're roughly in my area. I think I'd like to take a look around. I mean, I've always had a good relationship with them. 
When they offered you, was it pretty exciting?
My brother called me and he said that they're going to call you to probably offer you and then I got a call and it was just amazing.
You're sort of known for your shot-blocking. Out of curiosity, who are the hardest guys for you to try to defend?
 Probably one of the bigger or, like, stronger types. Like guarding all these top big men in the EYBL is like, man, I mean, they get the ball, and I get pounded. I try to block their shots and defend them, but a lot of them are tough.
Can you talk a little bit about San Diego State? (other reporter)
San Diego State is always in my ear. They're always really, like, a nice program. I just would like to learn more about them, but they're really nice though.
Do you think it would be hard to leave the West Coast?
I'm not sure. I don't think so. 
Have you thought about starting to pare it down?
I think about it a little bit, but I really feel that I should just stay open right now. So far, I have no idea what I'd like to narrow it down to..maybe a little later I will.
How do you feel you and your team are playing right now? Do you feel, in some ways, that this is, for lack of a better phrase, the best Marcus Lee that we have seen?
Yeah, this is probably the best Marcus. (laughs)
 Sorry to force you into the third person. I didn't want you to become a diva wide receiver or a boxer just yet..
(laughs) Yeah, in terms of the team, I think we try to separate ourselves by being a very family-like setting. Other teams, they seem to want to compete against themselves and other teams. We try to help each other out..that's our whole goal in this.
That's unusual.
Yeah, yeah. I'm sure you noticed that.
How is it playing in front of your family? Is it a different dynamic?
 It's probably the hardest thing. 
 Oh, really, it's actually harder?
 Oh, yeah, much, much harder. I feel like I have to meet much higher expectations when they're here. 
 I remember that you mentioned during a prior interview with me that your brother was your role model in basketball, not necessarily a current pro or college basketball player. I know that he was a Division II All-American. 
 Yeah, when he came into college, he was more of a scorer. He tried to focus on that.
 Was he generally a different type of player than you?
 Yeah, he's exactly the same. He would always try to do the little things to help the team win, things that might not show up in a box score. He got a lot of joy out of basketball. 
 Well, you seem to get a lot of joy out of playing basketball and life. What would you say is your favorite part about playing basketball? It seems like you like to run and block shots.
 Yeah, I love to block shots. They get so happy thinking that they're going to lay it in and I come by and just… swat! I just love doing the little things. I love winning and just being part of a team.
When I was talking to Jahlil, he was amazed at your speed. He had never seen you play before. He was amazed at your speed going up and down the court for a fellow big guy. That was his take on you. What was it like when you received the Duke offer? What was your reaction?
Well, my brother put Coach K's number in my phone. I wasn't sure if it was a joke, but then I got out of school and I was going through my phone and I saw Coach K's number coming up and I was, like, whoa, and then I was just sitting there and there was just a voicemail from Coach K and I, like, had to call him right back.
What did he say when you finally spoke to him? 
Oh, he was extremely excited. He had a whole bunch of enthusiasm in his voice. 
For those in the audience who haven't gone through that experience, what did he say?
He was just, like, well, he told me that I was, like, an amazing player. He was just, like, he wanted to, like, work me out and get me better.
What did he appreciate about you most?
He liked that I was so happy out there on the court and my energy.
They like high energy guys.
Yeah, I think that's what they liked about me most.
Thanks a lot, Marcus.
Oh, sure thing, man.
[/private]