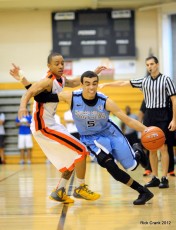 As many of you know, the Duke Men's Basketball staff has been on the road for official in-home visits with many key prospects. For our members only, BDN Premium recaps the latest happenings and previews what is to come (and there is a lot) in our latest team and recruiting update.
As a refresher, let's start by recapping the visits that have already occurred.  The first was with Semi Ojeleye, who went against the grain by not inviting the full-on media onslaught that so often accompanies these things. Ojeleye is considered a perfect fit at Duke and he knew exactly where he wanted to go after Blue Devils Coach Mike Krzyzewski gave his final presentation.
In committing to Duke, Ojeleye, of course, joins shooting guard Matt Jones in the (current) two-man Class of 2013.  Jones committed to the Blue Devils long ago, but he still received a visit last week, which we'll recap in a later update.
The Blue Devils then checked out the Tennessee home of Austin Nichols. Nichols is as close to a prototypical Duke frontcourt player as you can get, being a 6'11" guy who can go inside/out. The worry from a few involved is that [private] Vanderbilt and Tennessee provide him an opportunity to play closer to home, and it is worth noting that his sister goes to Tennessee as well.  Many continue to mention Virginia as a player in this recruitment too, but the style of play employed in the Cavaliers' system is a known turn-off. Nichols also raised some eyebrows when he decided not to participate with Team USA this past off-season, but that has not diminished Duke's interest in him.  As mentioned in the last update, Duke gets an official visit with Nichols on October 6th, and the goal is to close the deal at that time or at least have a good indication of what will happen. One thing to look for is how he gets along with the players here. While Nichols is far from a sure thing, the staff does seem to feel good about him. Nichols was more of a priority for Duke than was Marcus Lee, the talented California frontcourt prospect who recently dropped the Blue Devils from his list.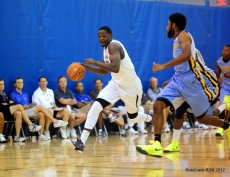 The Blue Devils also went into the home of Julius Randle, but minus the gimmicks and bling the other coaches used. This week, five more schools follow Duke, Kansas, Kentucky, and North Carolina with in-home visits, yet the puzzling thing is everybody with a pulse knows not one of these other five will make the final cut. A lot of people have been in Randle's ear lately, and his recruitment is now the most hyped of his class. This one will go on for a long, long time, so strap yourself in for one stressful ride. I have been covering Duke recruiting for a long time, and I hoped to avoid the dog-and-pony show, but it never fails: one player changes his whole demeanor going into his senior year. It wasn't that long ago that Randle gave four schools every indication that they would be announced as the finalists and then bam, we now have ten in-home visits? In any event, at the in-home they were straightforward with Julius as to what they have to offer and why Duke presents such a good opportunity for him, and Duke still feels they are in good shape with him.  The Blue Devils will be in it the day Randle chooses, but that day will not come until Spring.
But yes, Kentucky is in the mix in a big way and the Blue Devils cannot or will not match some of the things that Kentucky is about, offering a den of luxury and simpleton classes, easing the path for kids to coast to the League.  They are pushing the envelope to the edge with NCAA rules. They use the hip-hop culture, power personalities that show the bling and spoils of the life many only read about, and then they convince kids they'll be in an environment that caters to their every whim. School? Really? Anyhow, Calipari and his assistant Orlando Antigua go to events like the Peach Jam, sit right in front of the NCAA Compliance people, and push the edges of the rules.  They know exactly where the boundaries are, and have found ways to use them to their advantage. Kentucky doesn't hide the fact that they are a luxurious pit stop for prospects on their way to the NBA, and the lifestyle they offer is now swaying kids who valued education when growing up --  see Alex Poythress.  The school is at the forefront of overhyped dog-and-pony shows and in today's culture, prospects who cannot see the bigger picture in life easily get caught up in it, making it a tough act for a school like Duke to go up against.  Until something is done and the charade is halted, Kentucky will be a regular thorn in the side of everyone involved in the recruiting process.
Now, despite what I just said, I would not concede Julius Randle just yet. In no way do I feel BAD about Randle and Duke, but there was a time not long ago I thought the good guys were a prohibitive favorite. That in turn caused me to downplay Jabari Parker a bit, and I am not the only one who did so. The truth is Duke and other schools were asked to back off a bit on his recruitment awhile back, but they have been and will be in this one until the end as well. Despite what you have heard to date, let it go and start with a fresh take.  Duke's in-home with the Parkers is on Friday, and it's a big deal as Coach K will join Chris Collins to sell the Duke way and their vision for Jabari. Duke would of course take both Parker and Randle but realistically, that will not happen in the current landscape.  But they sure as heck would love to get one of them.  Expect Krzyzewski to go after both equally hard. In fact, he is doing so already.
As you know, the staff also goes to see prospects work out in open gyms. The most recent visits have been to see Trey Lyles, Justise Winslow, Karl Towns and Grayson Allen. They will continue to monitor each of them closely. Duke went to Memphis on Wednesday to watch Austin Nichols and Coach Krzyzewski will go to see Trey Lyles again today, because he wants a firsthand view.
Duke will visit Jahlil Okafor as well, now that the teachers strike in Chicago is coming under control. The Blue Devils have stayed strong with the big man and feel they're in great shape at this time, but much work still needs to be done.
And let's not forget the consummate winner, the outstanding point guard Tyus Jones. I got word last evening that Coach K will drop in on him today, which leads me to talk of the fast approaching Countdown to Craziness. Jones has confirmed he will visit for the affair, as will Justise Winslow, a key target in his own right.
Duke expects to get 2015 big man Karl Towns in Durham for CTC, as well as Theo Pinson, who is still on the mend from an injury. The injury to Pinson seems to have made his camp a bit more proactive, possibly out of fear of falling behind in the process. The Pinsons have taken their time with the process, but it's getting to the point where they are starting to do some more serious looking, as well as watching more closely what other key players are doing in their recruitments.
That pretty much sums up the latest, and as always we ask that you keep the information here per contract agreement. A lot of times recruiting information is sensitive and does not belong in public forums, as those can give competitors unfair advantages. For me to continue to share information we all covet, it is important to adhere to set standards.
In closing, thanks for being a member of Blue Devil Nation Premium and supporting our efforts to bring you the best coverage available. Please let others know about us, and if you have further questions on hoops recruiting, Andrew or myself will do our best to answer them on the message board. [/private]