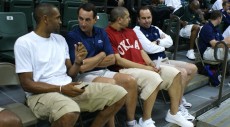 ORLANDO - Duke was sending a message to prospects this weekend, that being, if you come to Duke you are a part of a family.  You can add to that, once you are in the family, it's for life.
As the AAU Nationals continued in sunny Orlando, Florida, there was quite a Duke flavor permeating the arenas.
Mike Kryzyzewski arrived on the scene with Steve Wojcichowski today, where they joined Chris Collins following prospective Duke targets.
Imagine being a future Dukie and looking up in the stands and seeing not only your assistant coaches, but Hall of Famer Grant Hill and JJ Redick.
That was the case for Andre Dawkins, the class of 2010 commitment who plays with Boo Williams.
"JJ was fun to watch when I was coming up.  He had such fire and swagger about him and opponents hated him.  And that's what you want, you don't want your opponents to like you.  It was great to see them out here supporting me," said Dawkins after his teams win.
I asked Andre what it was like to be a part of the Duke family and he paused before saying, "It's a lot of fun but I don't know if it's quite sunk in yet."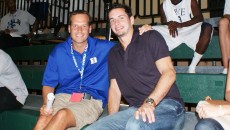 Just before Grant Hill went to watch Andre Dawkins with Wojo and Collins, he sat with Mike Krzyzewski who was also sitting with former Duke assistant and current Notre Dame coach Mike Brey.
But Oklahoma coach Jeff Capel was also there, as was Roshown McCleod, Jason Williams and Johnny Dawkins.
All of the former players paid tribute to their former coach who just came in from not only watching prospects in Las Vegas, but tending to his Team USA duties.
Syracuse head coach Jim Boeheim was also seated beside Krzyzweski for much of the evening and he, of course, serves as an assistant.  It's worth noting that Krzyzewski has called him a co-head coach out of respect for his long time friend.
It didn't take long for the crowd to notice the gathering of Dukies, for many could be seen snapping pictures of Coach K, and some even trying to breach the lines between the coaches, media and fans to get a closer glimpse.
Fans also were aware of JJ Redick's presence and many of the young ballers were sneaking over to get a look.  Heck, even the coaches were stretching their necks, many likely marveling that when the Devils turn out they do it in style.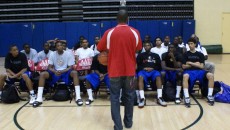 BDN was on the scene all day long and we'll bring you more coverage in our premium subscription section.  In fact, we will have reports and interviews from Las Vegas and Orlando well into the following week.
Join Blue Devil Nation today to get live reports all week long from Orlando.  We bring you up close and personal to the best basketball program in the land with unmatched recruiting coverage.  Interviews from this event and Las Vegas will be coming shortly.