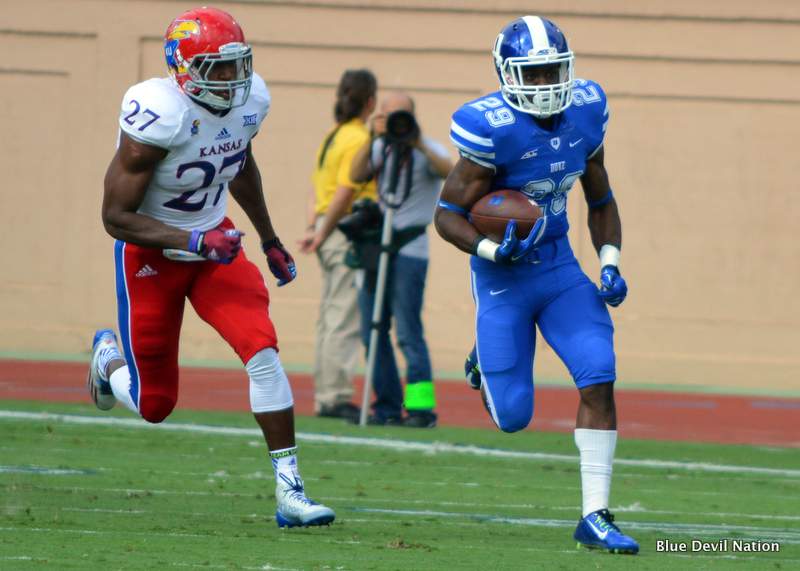 Duke vs Tulane
12:30 PM ET
Saturday, September 20
Durham, NC
TV: RSN
Radio: Blue Devil IMG Sports Network, Sirius Ch 112 and XM Ch 201
Duke in 2014: 3-0
Tulane in 2014: 1-2
DUKE INJURIES
QUESTIONABLE - Dezmond Johnson (DE), Lucas Patrick (OG)
OUT – Dan Beilinson (TE), Johnathan Lloyd (CB), Trip McNeill (OL), Jake Sanders (OL)
OUT FOR SEASON – Kelby Brown (LB), Braxton Deaver (TE), Taariq Shabazz (DE)
TULANE INJURIES - not available
Duke and Tulane last faced each other on September 24, 2011 in a game Duke won 48-27 at Wallace Wade Stadium. Tulane leads the overall series 2-1 with wins over Duke in 1964 and 1973. Duke defeated Kansas 41-3 last week, while Tulane defeated Southeastern Louisiana 35-20.
HOW DUKE CAN WIN
Executing on special teams, achieving balance on offense and ball hawking on defense will be the paths to success for Duke this Saturday.
In Tuesday press conference, Head Coach David Cutcliffe emphasized his desire to pin teams inside the 15 yard line on kick-offs. Look for Duke to use Jack Willoughby to hang the ball up just in front of the goal line in an effort to force Tulane to start their offensive possessions inside the 20 yard line. Moreover, Tulane is averaging 30.6 yards per punt on the season so Duke has an opportunity to exploit this weakness to win the field position battle.
When talking Duke and offense, balance is the key. Duke is averaging 510 yards offense per game through three games with 262.7 of those yards coming via the run game and 247.3 yards via the passing game. Not surprisingly, everyone is buzzing about the emergence of freshman running back Shaun Wilson and his record setting performance against Kansas; however, Duke starts three talented receivers who have the skills to burn the opponent's defense. Taking a look at the season statistics to date: Max McCaffrey has 16 receptions for 178 yards and two touchdowns; Jamison Crowder has 16 receptions for 177 yards and two touchdowns; Issac Blakeney has 13 receptions for 173 yards and three touchdowns. Add in proven upperclassmen running backs Josh Snead and Shaq Powell, and Duke has a laundry list of options the opponent must account for when designing a defensive game plan. Involving all the offensive options to keep Tulane guessing is how Duke will achieve success.
On defense, Duke must pressure Tulane quarterback Tanner Lee and force him to make mistakes. Lee has thrown six interceptions in three games so it is imperative Duke mixes up coverage looks to confuse Lee while simultaneously bringing the heat to hurry him up. If Duke can force Lee out of his comfort zone, odds are he will make mistakes. It is up to Duke's defensive playmakers to capitalize on Lee's mistakes.
HOW DUKE CAN LOSE
Turnovers and Tulane's speed are the two things Duke needs to be concerned with on Saturday. Duke has not turned the ball over in their first three games and that needs to continue for Duke to achieve success against the Green Wave. If Duke gets sloppy with the ball, the results could be disastrous. Tulane will be the fastest team Duke has faced in 2014 so Duke must be prepared to counter speed with speed and solid fundamentals. Players must execute their assignments and tackle and block with precision. Tulane has the speed to convert a small mistake into a big advantage.
WHY DUKE WILL WIN
The Blue Devils are looking to wrap up the out-of-conference schedule with a victory to improve to 4-0 on the season and equal last season's non-conference record. After being held to 14 yards on two receptions last week, Jamison Crowder will crank up his star power and combine with quarterback Anthony Boone to lead the stacked Blue Devils offense to victory.
On defense, Duke will emphasize keeping the plays in front of them to limit explosive opportunities to Tulane's offense, while mixing in blitz packages in an effort to create turnover opportunities.
Finally, Duke will utilize superior athleticism to dominate on special teams to win the vital field position battle. With Tulane facing a long field and Duke playing on a short field it will be a long afternoon for the Green Wave.
BOTTOM LINE
Duke has too many offensive weapons for Tulane to handle. Add to the mix a Blue Devils defense that has allowed opponents to score only 10 points in the 2nd half through three games, against a turnover prone Tulane offense and this event ends up as a game where Duke opens it up in the 4th quarter to win by four touchdowns.
Duke 38, Tulane 10