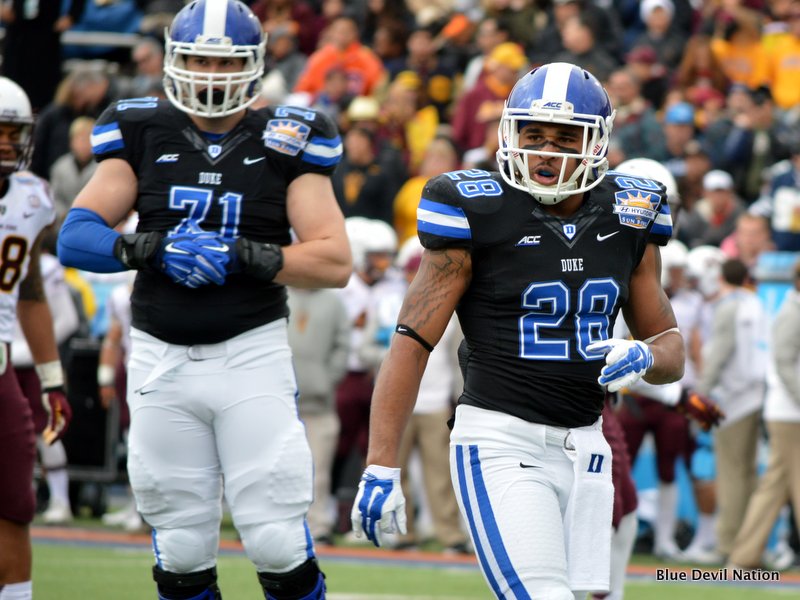 The calendar has flipped to July, which means August and the start of football practice is just around the corner. Anticipation is building for what promises to be another solid year in the ongoing resurgence of Duke football so the time is right to resurrect the Blue Devil Nation weekly Football Friday feature.
Some folks, talking heads and analysts, are looking at 2015 as a possible rebuilding year in Durham due to the players who left. A better approach is to focus on the players who are back and there are lots of players returning in 2015 who were part of the successes achieved in 2014 and 2013. Add in 13 redshirt freshmen and a true freshmen or two and Duke will send a bunch of talent onto the gridiron in 2015.
This first article will take a look at running back, which is one of the deepest and most talented position on the roster alongside safety.
Shaquille Powell will be the starting running back in Duke's single back offensive formation. He is a powerful between the tackles runner who has 1,055 career rushing yards as a Blue Devil. The best descriptor for Powell is workhorse, he is a player willing and able to do the dirty work - whatever it takes - blocking, running up the middle for a tough yard, catching the ball out of the backfield.
Powell has rushed for four touchdowns in his career with his signature moment coming in the 4th quarter of Duke's 48-30 win over Miami in 2013. On 4th and 1 at the Miami 33 yard line, Duke opted to go for the 1st down and Powell took an hand-off and broke free up the middle for a touchdown.
Shaun Wilson set the Duke single game rushing record with his 245 yard performance against Kansas on 9/13/2014. Wilson, who possesses elusive moves and breakaway speed, rushed for 598 yards and five touchdowns on 78 carries for a 7.7 yards per carry average as a true freshman last year. He also caught 18 passes for 179 yards.
During Spring practice, there was some buzz about Wilson lining up in the slot as well as split wide. Coach Cutcliffe has previously stated his desire to maximize the playmakers on the field so Wilson seeing action as a slot receiver in addition to lining up in the backfield as a running back is a distinct possibility.
Jela Duncan rushed for a combined 1,115 yards during his freshman and sophomore seasons prior to missing the 2014 season. He was the team's leading rusher as a true freshman in 2012. Duncan's return to action provides the Blue Devils with another powerful runner to complement Powell, especially when Duke switches up the offensive look and goes to a two back formation.
The return of Duncan is a huge positive, which is tough to overstate. He is a versatile back who runs with power and speed, in addition to being able to catch the ball out of the backfield or serve as an additional pass blocker.
Joe Ajeigbe is the last of the quartet of running backs. He carried the ball 41 times for 150 yards in 2014. Ajeigbe's marquee performance was when he rushed for 53 yards on eight carries in Duke's 31-25 upset of Georgia Tech in Atlanta on 10/11/2014. He has the potential to provide increased production with more touches in his sophomore season.
An increased emphasis on the running game is expected in 2015 due to several factors. First, the talent and experience at running back on the roster; second, two quarterbacks who are strong, fast runners; third, an offensive line that continues to be a team strength. Combine those factors together and the result is a team which will look to run the ball with authority.
With four talented running backs in the rotation, look for Duke to spread the carries around once again in 2015 in order to keep pounding away at the opponent's defense with fresh legs.
Be sure and check back next Friday for another football article as Blue Devil Nation ramps up the coverage through practice and on to opening kick-off in New Orleans on September 3rd.