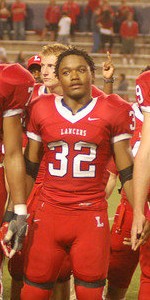 In 2010, Duke coaches and fans were impressed by the play of freshman linebacker Kelby Brown. On the recruiting trail, the Duke coaching staff is searching for more hard-hitting linebackers to join Brown on the Blue Devil defense. Deion Williams is a 6'0" 215 pound linebacker prospect from Orange, California. The Blue Devils have had recruiting success on the west coast, bringing QB Brandon Connette, TE Cooper Helfet and WR Blair Holliday to Durham in recent classes. They hope that trend continues with Williams, who has already received a verbal scholarship offer from Duke and visited Durham this spring. As a junior, Williams was named 2nd Team All-Trinity League and is getting ready to [private] start spring football and make his college decision.
BDN: Which schools have you had a chance to visit this spring?
I only got to go out to North Carolina to visit Duke.
BDN: How did your visit to Duke go?
It went really well. The campus is beautiful and it just felt really good.
BDN: Which other schools do you hope to visit this spring or summer?
We're going into spring ball right now so I don't know if I can do a whole lot of traveling, but I'm hoping to get upstate to see Cal and even further up to see Washington.
BDN: Have any coaches spoken to you about coming to watch you play this spring?
I'm not sure, no. My coach will tell me that soon, though.
BDN: Have any new schools been in contact with your recently?
Some coaches from Northwestern have tried to get in contact with me through Facebook and…I can't remember off the top of my head right now.
BDN: Which schools stand out to you at this point, based on your relationship with the coaching staff or your visits?
Duke really stands out to me. The coaching staff is great. I really felt at home there.
BDN: When you do plan to make your decision?
I hope to make my decision pretty soon. I want to just go on a couple more visits just to check around.
BDN: Thanks a lot, Deion, and best of luck to you.
Thank you, sir.
[/private]