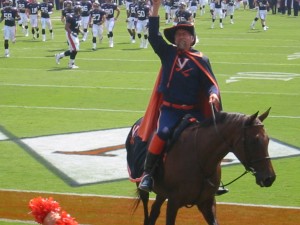 Duke (3-6, 1-4 ACC) will look to make it four in a row against the Virginia Cavaliers (6-3, 3-2 ACC) on Saturday. Heading into the 3PM kickoff in Charlottesville, the Blue Devils are riding a 4-game losing streak while the surprising Wahoos have won 4 out of 5. Virginia ranks 3rd in the ACC in both total offense and total defense, and will present a significant challenge for Duke on both sides of the ball. After a disappointing performance on the road in Miami a week ago, the Blue Devils will need to put together a much better effort in Charlottesville if they hope to secure a tough ACC road win.
GAME INFO
Duke at Virginia
3:00 PM ET, Saturday, November 12
Radio: Blue Devil IMG Sports Network; Sirius XM Radio (Channels 92 & 190)
TV: RSN - Rich Waltz (Play-by-play), Keith Jones (Analyst) and Jenn Hildreth (Sideline)
Internet: GoDuke.com; theACC.com
KEYS FOR DUKE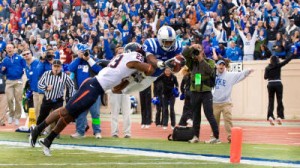 1. Winning attitude: Duke is in the midst of a 4-game losing streak, and it shows. The Blue Devils have lost tough games to Wake Forest and Virginia Tech and are in danger of taking a turn to Negative Town. Defensive leaders Matt Daniels and Charlie Hatcher will have to keep their unit focused and confident after they were picked apart by a speedy Miami offense last Saturday. Sean Renfree must take control of the offense, and Kyle Hill must do a better job keeping the offensive line in sync. In short, Duke must play hungry for a win for a full 60 minutes on Saturday.
2. Win the line of scrimmage: Football is won and lost in the trenches, and UVA's offensive line has helped to power them to their 6-3 start after a dismal 2010 season. The Cavaliers rank 3rd in the ACC with 190 rushing yards per game and are 2nd in the ACC with just 8 sacks allowed all season. If the Blue Devils are to win this game, their young defensive linemen will have to play up to their potential. First and foremost, Duke cannot allow UVA to open holes for RB Perry Jones, who enters the game averaging 5.3 yards per carry. If the Blue Devils can put first-year QB Michael Rocco under pressure, he will make bad throws, as evidenced by his 9 INTs on the season. Virginia as a team ranks last in the ACC with 13 interceptions thrown, a number which the Blue Devil secondary will have to add to on Saturday.
3. 60 Minutes: Coach-speak, cliché, call it whatever you want. Virginia is a good football team and it will take a complete effort for the Blue Devils to pull off an upset on the road. Perhaps most important will be the offensive effort, as Duke's offense has been wildly inconsistent of late. Sean Renfree will have to be wary of Chase Minnifield lurking in the Virginia secondary, but should be able to find mismatches in the Blue Devils' favor down the field. Senior Cam Johnson will present a challenge for the Duke offensive line, but the duo of Desmond Scott and Juwan Thompson should still find room to run. Duke has 3 straight wins against Virginia, and they will have to play with confidence and consistency to keep their streak intact.
WHAT TO WATCH
1. Blue Devil Streaks: Duke has a few players closing in on several school records.
Senior WR Donovan Varner needs just two more catches to tie Clarkston Hines' all-time receptions record at Duke. Varner ranks second with 187 grabs. Junior teammate WR Conner Vernon is right behind Varner with 184 catches.
Redshirt senior K Will Snyderwine compiled two points last week and ranks fourth on Duke's all-time scoring chart with 209 points … Randy Gardner is third on the list with 221 points.
Donovan Varner has at least one catch in 34 straight games to match the third-longest streak in Duke history … The school record of 35 is held by Scottie Montgomery.
2. Red zone offense: It's no secret Duke has struggled to score points at times this season. Duke ranks next to last in the ACC in red zone efficiency, scoring on just 72% of their opportunities. If the Blue Devils come away empty-handed in the red zone on Saturday, it will be an ominous sign.
3. Duke seniors: In particular, Matt Daniels and Donovan Varner, two great representatives of the Duke program, who always seem to come up with a play when their number is called. Duke fans have just three games left to watch these two All-ACC seniors and their classmates take the field. This senior class has never lost to Virginia, and would like to keep it that way on Saturday.
PREDICTION
Matt Daniels has never lost to UVA. Sean Renfree has never lost to UVA. Coach Cutcliffe is 3-0 against UVA since arriving in Durham. Coming off one of their most disappointing performances of the Cutcliffe era, Duke needs a win in the worst way. Expect the Blue Devils to put together a much improved effort against a bowl-bound Virginia team. At 6-3, the Wahoos have been one of the biggest surprises in the ACC this season, and they'll certainly be gunning for the Blue Devils after 3 straight losses in the rivalry. There are few instances where history and karma seem to be on the Blue Devils' side, but this may be one of them. Duke seems to have the Cavaliers' number, and they come into this game with nothing to lose, in desperate need of a win. Duke 24, UVA 20