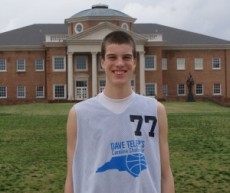 This week's edition starts out with player analysis on Marshall Plumlee and Quinn Cook, and then moves on to provide a bouquet of links to box scores and articles discussing the other Duke commits and recruiting targets. [private]
I watched Marshall Plumlee (7'0" 215) and Christ School take on Quality Education Academy via streaming video on the Internet, and I was pleased with some of what I observed. Plumlee ended the game with 10 points, including going 4 for 4 from the free throw line, and four blocked shots.
Quality Education Academy won by a score of 77-65 in a game that wasn't that close. The Fighting Pharaohs dominated the Greenies for the last three quarters after initially falling behind 12-3, but rallying to end the 1st quarter in a 15-15 tie. QEA utilized pressure defense and quick hands to exploit Christ School's ball handling skills.
Plumlee worked hard in the low post on defense and was effective early in maintaining his position. Christ School played both zone and man-to-man defense in the game. Later in the game, Quality Education Academy repeatedly attacked down the middle of the lane and dished passes to the baseline for easy baskets as Plumlee attempted to step up and defend the ball.
On offense, Plumlee operated mainly out of the high post and delivered a couple of nice passes for assists. He also demonstrated the ability to drive the lane and score or draw a foul and convert from the charity stripe. This is how he scored 6 of his 10 points with the other two baskets coming from a dunk off a pass into the low post and a nice 10-12 foot jump shot in front of the free throw line.
A key point, which must be communicated, is the Greenies are a perimeter oriented 3-point shooting team that makes minimal effort to feature Plumlee in their offensive sets. Watching this game, I believe he made the most of his scoring opportunities.
The broadcast commentator commented while most high school seven footers are clumsy, Plumlee was quick off his feet and athletic. The commentator also remarked Plumlee's weakness on defense was a propensity to leave his feet too often on pump fakes and passes.
He needs to gain much more strength to be effective in the ACC and he will need to work on his left hand. Plumlee caught a pass in the low post and moved across the lane attempting a left handed jump hook, but he missed badly - air ball badly. Moreover, he was whistled for four fouls in the game as the quicker QEA players' maneuvered by him with ease at times. One of his four fouls was for an illegal screen on an inbounds play and he committed a block attempting to break-up a fast break. The other two fouls were a direct result of him being out of position on defense. On the offensive end of the court, he was not effective rebounding the basketball.
Overall, I was impressed with Plumlee's play. He obviously still needs to improve in several areas; however, he demonstrated good skill sets and athleticism to complement his 7' 0" size, including a length of the court outlet pass off a defensive rebound, so I am optimistic he will be a valuable addition to the Blue Devil roster.
Earlier in the week, Plumlee scored 14 points and grabbed 18 rebounds as Christ School defeated Providence Day School 82-54. The day after the QEA loss, Christ School bounced back with a 94-60 victory over Ensworth. Plumlee's stat line was nine points, eight rebounds and six blocked shots.
On Saturday afternoon, Quinn Cook (6'1" 160) and Oak Hill took on Quality Education Academy and once again I took advantage of streaming video, which was available on the Internet, at the IHigh website. Cook scored 13 points as Oak Hill came storming back, in the 4th quarter, from a double-digit deficit to defeat QEA 73-71.
Offensively, Cook is best described as smooth. He is comfortable with the ball in his hands and delivers crisp passes to teammates with ease. Cook also demonstrated the ability to attack the middle of the defense with nice drive and dish skills.
Cook orchestrates the offense with purpose quickly passing the ball to teammates or driving with the ball. He does not repeatedly pound the ball into the court without going anywhere, which is a weakness many young point guards demonstrate.
In this game, his outside shot was not falling as he only knocked down one 3-pointer even though he had several open looks. Cook has a reputation as a deadly 3-point shooter, he went 11-26 (.423) this past summer at the FIBA U17 World Championship, so I believe last night was an anomaly. All players have an off game shooting from time to time.
Defensively, Oak Hill switched up between man-to-man, a 2-3 zone, and a half court trap. Cook was aggressive in the zone and half court trap, but in the man-to-man he did not exert a tremendous amount of on ball pressure choosing instead to play off his man a bit. This could be a factor of the specific match-up or perhaps it is indicative Cook is still not fully recovered from his recent knee surgery.
Overall, Cook played a solid game and impressed me as a player who will have an immediate impact at the next level. While Cook did not demonstrate blazing speed a la Kyrie Irving or a deadly outside shot a la Andre Dawkins, he did demonstrate excellent ball handling skills and poise. With Irving most likely departed to the NBA, Cook will challenge to start and, at a minimum, be a significant contributor off the bench as a freshman.
At the Rotary Tip-Off Classic, Austin Rivers (6'5" 180) was named Tournament MVP with 28 points, 10 rebounds and four assists performance as Winter Park defeated Orlando Christian Prep 72-40 in the Championship game on Saturday night. On Thursday, Rivers scored 22 points on 8 of 12 shooting (3 of 6 on threes) as Winter Park defeated Spruce Creek 81-43, in the quarterfinals. On Friday night, in the semi-finals, Winter Park defeated Evans 74-55. Austin Rivers scored 15 points in the game.
In Richmond, Michael Gbinije (6'6" 180) was named Tournament MVP as Benedictine defeated Hopewell, 59-52, to win the Rebel Invitational. Gbinije scored 15 points in the Championship Game. He scored 28 points to lead Benedictine to an 80-76 victory over Meadowbrook in the opening game, while in the semifinals, Gbinije was held to five points, but Benedictine advanced to the championship game with a 59-45 victory over St. Christopher's.
Rasheed Sulaimon (6'3" 180) scored 24 points on Thursday evening but Strake Jesuit dropped a 59-52 decision to Killeen Harker Heights in the opening round of the Aldine ISD Invitational. On Friday night, Sulaimon scored 20 points as Strake Jesuit defeated Waller 77-41. Strake Jesuit defeated Rosenberg Terry, on Saturday evening, 52-47.
Sulaimon is averaging 22.3 points per game through the first six games of the season. He has 18 assist against only five turnovers.
Rodney Purvis (6'2" 165) scored 18 points to lead Upper Room Christian Academy to a 75-61 victory over St. David's on Thursday night. Purvis scored 14 of his points in the 1st half.
In Wisconsin, J.P. Tokoto (6'6" 180) was held to 11 points as Milwaukee Marquette defeated Menomonee Falls 58-55 on Friday night. Tokoto was in foul trouble early and sat out most of the 1st half. On Saturday night, Tokoto exploded for 23 points including 14 in the 3rd quarter but Menomonee Falls lost to Milwaukee Washington 95-85.
Finally, wrapping up this week's edition is Tony Parker (6'9" 265) and Miller Grove who defeated Milton 71-61. Milton was considered the number one team in the nation by several polls including USA Today. Tony Parker recorded a 20 points and 12 rebounds double-double in the big win. In this video interview, Parker credited defense as the key to the victory. Miller Grove improved to 4-0.
[/private]