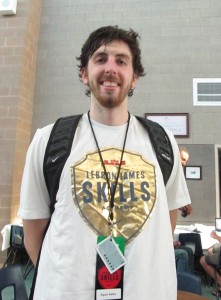 On a steep hillside overlooking the Hudson Valley in New York, the Trinity-Pawling school was where Chris and Doreen Kelly were working as educators and coaches when their first child, Ryan, was born on a Tuesday in early April of 1991. Genetically, Ryan benefited intellectually and athletically from a union of two high school sweethearts who both enjoyed athletic success in the Ivy League.
Alongside 6'11" Chris Dudley, who would ultimately play in the NBA for sixteen years, Chris Kelly played collegiately for the Yale Bulldogs under Tom Brennan and captained the team as a senior in 1985. A sharpshooter like his son, Mr. Kelly left his mark in New Haven on the court, finishing in the top ten in both field goal and free throw shooting before playing basketball professionally in France. After working at Merrill Lynch, he coached for nearly a decade at Trinity-Pawling, including winning the Western New England Championship in an undefeated season with Heshimu Evans, who would play collegiately both at Manhattan under Fran Fraschilla and at Kentucky where he would be a major contributor on their 1998 National Championship team with "Tubby" Smith.
His mother, Doreen Casey Kelly, twice earned all-Ivy distinction for her exploits on the volleyball courts at Penn. Her father, Rich Casey, played basketball with the "M & M boys," Jim Manhardt and Bob Melvin, at Fordham University under Coach Johnny Bach in the early 1960s. Mrs. Kelly would go on to teach for a decade at Trinity-Pawling before becoming the Director of the Lower School at the tony Ravenscroft School, which is in its sesquicentennial year, in Raleigh, North Carolina. It was at this point, when Ryan was in the third grade, that the Kelly clan, which now included younger siblings, Sean and Erin, made the nearly ten hour drive from Dutchess County in New York to begin a new venture in the capital city of Raleigh.
Fast forwarding to 2005, at Ravenscroft, Ryan Kelly started immediately as a freshman under Coach Kevin Billerman, a former Duke captain from New Jersey under Bill Foster and Neil McGeachey as well as a former college coach at Florida Atlantic and UNC-Charlotte. Although he started, Kelly's on-court production, averaging four points and four rebounds per game as a freshman for a sixteen win Ravens team, didn't necessarily portend the future All-American that he would eventually develop into.
With his mother, Doreen, now the Head of School at Ravenscroft, Kelly had unfettered access to the school's gymnasium and took full advantage, practicing often from before dawn broke on the school's hardwood. Ryan also began to grow physically and played with the D-One Sports AAU program, run then by the Clifton Brothers, Dwon and Brian. By his sophomore year, Ryan's metamorphosis as a basketball player began, as he was now averaging over fourteen points and nearly nine rebounds, while helping Ravenscroft achieve a top ten ranking in his adopted state of North Carolina. As a result, Kelly began to garner mid-major interest.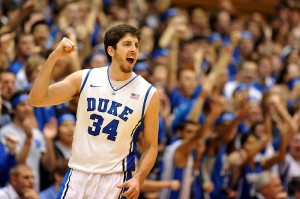 Off the court, Kelly was a bit of a polymath. He was a member of the National Honor Society and a National Merit Scholar semifinalist, earning over a 4.0 GPA and a 2150 SAT score, while demonstrating his proficiency in Latin (Magna Cum Laude on the National Latin Exam), playing the double bass in the school's orchestra, and being an active member of the Fellowship of Christian Athletes. He also began to date the captain of the Ravenscroft girls' basketball team, Lindsay Cowher, whose father, Bill, was a Super Bowl-winning coach of the Pittsburgh Steelers and is currently a studio analyst for the NFL Today on CBS.
As a junior, the perpetually growing Kelly took a great leap forward earning all-state distinction and becoming a nationally recruited high-major caliber recruit. He helped the Ravens win twenty-four games and get ranked fifth amongst private schools by scoring over twenty-three points, grabbing nine caroms, and swatting four shots per game. On the AAU circuit, he teamed up with John Wall, a Raleigh product, to form as dangerous a one-two punch as there was for the AAU season of 2008. Wall, a tall, blazing fast point guard, was a sensation unto himself, but Kelly, who grew six inches during high school, had a unique skill set as a highly skilled four man, drawing praise for his shooting proficiency and basketball acumen. Playing with Wall helped bring Kelly attention from coaches and scouts. The duo took full advantage of his "pick-and-pop" dexterity, which was hard-earned through the countless hours of refining his shot and drills at the Ravenscroft gym.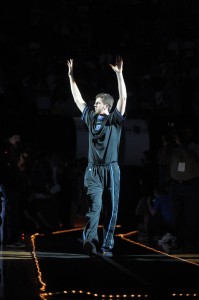 During that summer, Kelly also traveled to Formosa, Argentina, where he played with future college roommate Mason Plumlee and fellow future national champion Kemba Walker for Team USA and Davidson Coach Bob McKillop, a fellow transplant from New York. Kelly started all five games and contributed, but, ultimately, the host Argentinians captured the gold medal. Kelly then headed out to Las Vegas for his final AAU tournaments with Wall and D-One Sports. Soon after, Duke's interest in Ryan Kelly intensified rapidly. Coach Krzyzewski, having just revitalized the USA Basketball Men's team with the gold medal in Beijing, took a keen interest in Kelly as a stretch four in the mold of Mike Dunleavy, Jr. and Luol Deng.
Kelly, with the academic and athletic credentials to be recruited at that point by literally every program in the country, sat down with his family and whittled his list of offers to six schools in early August. By September, he visited Duke and was formally offered a scholarship on his visit. On October 9, 2008, after systematically analyzing the pros and cons of his prospective offers with his family, he announced his commitment to join Duke University, a thirty minute ride away from his home on Ravenscroft's campus.
As a senior, Ryan averaged over twenty-five points and ten rebounds in leading the Ravens to a 28-7 record, ultimately losing in the title game to Mason Plumlee's Christ School by eight points in the state championship game. Ryan garnered all of the prestigious awards and honors, including McDonald's All-American, Parade All-American, Jordan All-American, and North Carolina's Gatorade Player of the Year, while finishing as a consensus top twenty recruit in the class of 2009.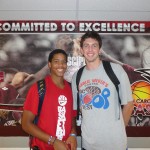 At a lean 6'10" and 205 pounds with a tight crewcut, Ryan Kelly entered Duke with an affable fellow McDonald's All-American, 6'11" Mason Plumlee, and a 6'5" sharpshooter from the Chesapeake Bay area of Virginia, Andre Dawkins, who he believes will be lifelong friends. With veteran leadership and blessed with substantial depth in the post, Kelly played relatively sparingly, two hundred and twenty-seven total minutes in thirty-five games, as a freshman during Duke's Championship run, but steadily tried to add strength and contribute in spots.  He was able to compete in five of the six NCAA Tournament games, including knocking down a pair of free throws against Purdue in the Sweet 16, in front of more than 45,000 in attendance at Reliant Stadium in Houston.
Grateful to his parents for their guidance and support, he did try to overcome one perceived genetic flaw, upper-body strength, immediately following the season. "They were athletes and I mean good athletes, but they weren't..I don't know if either of them could do a pull up," joked Kelly. With a single-mindedness of focus, Ryan ate a lot more, hit the weight room, worked out, and, after earning All-ACC academic honors as a freshman, did both summer sessions of classwork at Duke. At an elite basketball program like Duke's, there are no guarantees of playing time, but Kelly's work and perseverance paid immediate dividends for the team and himself.
As a sophomore, Kelly was now nearly two-hundred and thirty-five pounds and a frequent starter, on a team with four players that are currently in the NBA. His constant shot refinement in the gym manifested itself in substantial improvements across the board in the prominent shooting categories: field goal shooting percentage leapt from 35.6% to 51.6%, foul shooting percentage improved substantially from 66.7% to a respectable 80.5%, and the former McDonald's three-point shooting champion more than quadrupled his production from five to twenty-two made three-pointers, while improving the overall percentage from 26.3% to 31.5% . At one point in the season, Ryan hit a blistering eighteen consecutive shots from the field, including seven three-pointers. After scoring a total of forty-one points as a freshman, his scoring production also increased, including scoring a then career-high twenty points against Wake Forest, a former finalist in his recruitment. Defensively, he lead Duke in charges taken and finished in the top ten in the ACC in blocked shots.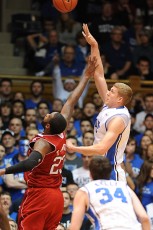 When Kelly, a public policy major, became an upperclassmen, he followed former mentor Brian Zoubek's guidance and added whiskers to his youthful countenance, more closely resembling a nineteenth century professorial beard than a Maine lumberjack, and let his mane of hair grow.  The growth was not just superficial as the cerebral junior was named a team captain. As the season began, his efficient offensive impact was felt immediately as he captured MVP honors at the Maui Invitational, including scoring seventeen points and ensnaring twelve rebounds in Duke's win over Kansas in the championship game of the early season tournament.
The weapon that Kelly added to his holster was developing into a lethal three-point shooter, 40.8%, at 6'11" in sneakers. As a stretch four, Kelly was instrumental in the team's climactic come-from-behind victory over the archenemy UNC Tar Heels, scoring fifteen points and nailing a Tyler Zeller-aided shot to pull the Blue Devils within one, which enabled Austin Rivers' dramatic and clutch three-pointer to be the game-winner. After struggling with his shot a bit down the stretch, Ryan went for a career-high 23 points in Winston-Salem, NC against Wake Forest on the last day of February. A week later, Kelly sprained his right foot in practice and the Duke team never fully adjusted in the short span of the season that remained. Statistically, he was the team's third best scorer and rebounder, but that doesn't adequately convey the absence of the spacing, perimeter shooting, patience, shot-blocking, presence and basketball acumen that Ryan provided the team. Three games later, the Blue Devils' season ended with a stunning upset loss to Lehigh.
In late March, Dr. James Nunley at Duke Hospital put a screw into Kelly's fifth metatarsal and Ryan has fully recovered. By June, the twenty-one year old spent several weeks in Las Vegas training with players like Dion Waiters, Terrence Ross, Arnett Moultrie, Maalik Wayns, and Xavier Gibson at Impact Academy. Kelly was looking to cut down on his shot reaction time, continue to add range to his three-point shot, and get leaner through added strength. Later in the month, he joined his Duke teammate and co-captain, Mason Plumlee, at the Amar'e Stoudemire Skills Academy in Chicago. During the following month, Mason, Ryan, and Duke newcomer Rodney Hood were among the twenty-five elite collegiate players attending the LeBron James Skills Academy in Las Vegas, where they went through drills with veteran coaches, such as the Celtics' Kevin Eastman and former Duke assistant coach Jay Bilas, as well as played in front of NBA scouts.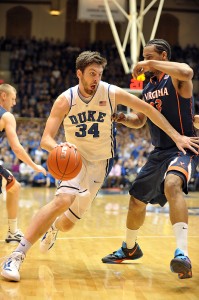 Kelly also worked as an intern and a fundraiser for The Monday Life, a non-profit begun by a former Duke team manager, Joey McMahon, that seeks to improve the environments for kids at six children's hospitals around the country, including Duke Children's Hospital, through a variety of enrichment programs. Finding passion in this newfound venture, Kelly visited Duke Children's Hospital, spoke and played with patients, and the two-time Duke captain worked to set up his teammates with fundraising pages for The Monday Life.
Always a student, Ryan, an analytical Seinfeld fan, along with his father, Chris, combed through the Duke record book looking for a prior Blue Devil whose career trajectory that he could emulate. He's targeted current NBA Champion and former Duke All-American Shane Battier, who tirelessly transformed himself from an anemic three-point shooter as a freshman (four three-pointers out of twenty-four shots, 16.7%) into a sniper forward (124 made three-pointers at a 42% clip) during his national championship-winning senior season, noting that Battier was also a high volume (averaging roughly seven three-point shots per game) long-range shooter during that season.
As the dawn of his final season approaches, the highly motivated Kelly is excited about the team's future and his own. "We go into every year believing that we're going to win championships. This year, we have the talent to do that and, if guys come ready to play and compete, we can certainly go get one."
In a very lengthy and candid interview with Ryan Kelly, the senior forward spoke about his relationships with Coaches Mike Krzyzewski and Steve Wojciechowski, Andre Dawkins, and Mason Plumlee, his NBA aspirations, how playing sparingly as a freshman fueled his motivation, how his leadership approach will evolve for this year's team, Bill Cowher, the impact and influence of his family, playing with John Wall, his charity work this summer, what some of the freshman will bring to this year's squad, and comparisons to European big men, amongst a variety of topics.
Let's start with your family. On both sides of the family, you've got a lot of relatives who have played and coached basketball. How has that helped you throughout your journey to this point?
Yeah, my family's been deeply involved in sports. It's been great for me. You know, before my grandfather passed away, he was a big influence on me, both on basketball and off the court. We were quite close.
[private]
Did he move down from New York as well?
Yeah, he moved down here to North Carolina a couple of years after we did..with my grandmother. He was a huge influence. Funny enough, back then..oh, man, I can't remember the name of his high school, but he still holds the record for most points scored in his high school gym, without the benefit of the three-point line. He was a real scorer, but he really taught me a lot about the defensive side of the ball (laughs). The reason is because, when he got to Fordham, he was playing for Johnny Bach (former coach of Fordham, Penn State, the Golden State Warriors, Chicago Bulls, Charlotte Hornets, Detroit Pistons, and Washington Wizards)…and he didn't get the playing time that he, well, because, you know, he could score with the basketball, but he didn't play any defense. So, he always big on me on that..
Well, I'm sure you've seen that with others as well where a parent or grandparent will emphasize an area or facet of their game that they wish they had been a little bit better at, even those that played at the highest levels. I'm familiar with that Fordham area. Arthur Avenue, the Bronx Zoo.. You can get a good calzone around there.
Oh, yeah, absolutely. Then, my father was just huge for me to be around and just get in the gym with him whenever I needed to. He was a guy that was a captain and, you know, played professionally in France. It's just valuable information. The game of basketball is about hard work, but it's also a mental game and you can learn a lot of things at any age.
I was going to ask you about your thoughts on the mental aspect of the game in a little bit, but, since you brought it up, I know that you were an excellent student. I'll assume that you still are.
(laughs) I try. I'm still really trying.
Latin scholar. For whatever reason, that always impressed me. Sapientia est potentia.   
(laughs) Yeah, yeah, yeah, well, that was really just something that my parents, you know, really instilled in me. I really think that it shows out in the basketball court as well. I figure..
I think, at the college level, at the beginning of your sophomore year, I thought it really started to click for you.
You know that, in this game, you've got to have some athletic ability, God-given height and different things
Unfortunately, the Lord robbed me on one of those things.
(laughs) You know that it's a cerebral game. You can't over-think it, but you need to be smart about the moves that you make. I think it's really been an important part of my game.
Did you feel that your second year was when you started to be able to blend or fuse the mental gifts that you bring to the court with your newfound body? Was that when it started to click for you?
It started to get there and my whole career, you know, my high school career, was a growing process.
Sure, it absolutely was.
Yeah, and I think that's what my college career is going to be like. That's just the way that my career is and that's why I feel I'm poised for a really good senior year. You know I'm excited about it because I look back and I go, well, look what I did, you know, growing through high school in the way I did. It's happening again.
With you, I think about that Coach K saying, "Run your own race."
Yeah, exactly. That's the one. As you know, not every player that comes into Duke and is a McDonald's All-American is a one-and-done or whatever.
Right, right.
I think I had a really solid junior year.
You did.
I'd like to take that and grow from it. You know the end was not fun, but injuries are a part of sports. It's not fun to get hurt, but, like I said, injuries are a part of sports and especially at that time of year.
I was going to ask you about that in a bit, but have you fully recovered? I assume that you're back to your old self.
Oh, yeah, yeah, I'm fully recovered. I'm obviously playing, but, yeah, it's at full speed. The training staff has done a great job with that. They would never stick me out here if I wasn't good to go. They took great care of me and the surgery went great. I had a screw put in my fifth metatarsal. (demonstrates) That's where it was. It's just your outside bone there on your foot. The healing has been great and, like I said, injuries are a part of sports. They stink and especially when it's your feet, where you've gotta be off of your feet, but..
Especially, for a big guy.
Yeah, but I think the surgeon did a great job, Doctor (James) Nunley.
It was done at Duke.
Yeah, it was done at Duke.
We don't want one of those shabby Tar Heels damaging you permanently.
(laughs) No, he's one of the best surgeons in the world. I was fortunate to be in a place where, at Duke Hospital, they really took care of me.
I had watched you play a lot in high school, but you're actually the only member of the team that I never actually formally interviewed because of the timing of Duke's recruitment of you. So, I've had some things that I was curious about. You had access to a gym and the reports were, in those days, that you were in there at 6 AM. I don't know if it was true or not. You had a legendary work ethic.
(laughs) No, it is. It's something that I've always prided myself in.
It impressed me. I like guys who are hungry and have a great work ethic.
Thanks. Since probably about eighth grade, I…and I'm not a morning person at all (laughs), but I kind of forced myself to get up.
Finally, something the audience can relate to..
(laughs) Yeah, my mom, was the head of the school and so she.. 
That's an interesting dynamic.
Yeah, yeah, yeah, and so she had the keys to the gym 
I wish to God I could've had that as a kid. 
(laughs) Yeah, I'd just get in there and just shoot, shoot, shoot. 
Do you still do that a lot during the summer?
Oh, yeah, well, actually not at six AM, but..
God knows.
(laughs) Yeah, I've fortunately got all day, but, yeah, I'm still the same person who goes in that gym like two or three times a day.
Three times a day. Wow.
Yeah, I feel like I've got to in order to keep improving on my game. Just working on your shots.
One thing that I thought you separated yourself from the pack in the two-on-two and three-on three drills today was with your fadeaway. That was an element that you didn't necessarily have as much in high school as you do now.
Yeah, definitely, I've really worked on that, especially this summer.
At your height, it's a very dangerous or potent skill.
Yeah, you know that's something that I think is really going to help my game this year. In the past, so far at Duke, well, really it's unbelievable, but people don't really know me. In high school, I shot…
I watched you a lot with (John) Wall, but I didn't know if they were going to come after you. Then, by the time they did..
 Yeah, yeah, yeah, no, I mean in high school basketball. In AAU basketball, I shot some threes, but, in high school basketball..
You shot straight up.
Yeah, I didn't really shoot three-pointers and then I won the McDonald's three-point competition and..
"Hey, the kid can shoot threes!"
(laughs) Yeah, exactly, all of a sudden I can shoot…and that was a good thing because I needed to have that skill, but what I've always had is a little knack for scoring around the basket..with my back-to-the-basket stuff
Yeah.
And, as we got to college, I wasn't always big enough or strong enough
Very fundamentally sound. Bank shots, drop steps..
Yeah, yeah, yeah, but I wasn't big enough or strong enough to get the shots that I wanted.
That's another thing that I'd like to touch on with you. Your body has transformed so much in your time at Duke. You're so much bigger.
(laughs) It's definitely changed a lot since I've come to Duke and, you know, it's still changing.
Maybe you could speak about that and where you'd like to get your body to be. You've gotten much bigger. You were like 190 to then 205.
Yeah, yeah, now, I'm up in that 230 range and that's where I'd like it to be. I just want to continue to get stronger in the weight room.
Forgive me a second, but I was speaking with a scout today about you beforehand, in preparation, and he was commenting on how you've gotten bigger. So, I asked him what he thought you needed to do next and he felt that you now needed to get a little bit more cut. 
That's exactly what I'm working on next.
I wondered if that was the next plan in the ongoing process.
That's exactly the next plan in the process. You know that a lot of my freshman year, especially because I wasn't playing a ton at Duke, I kept trying to put weight on. That's what my body needed. Then, the next few years, it's been trying to get cut and get stronger. Just get stronger. That's what will come with being stronger. You know I somewhat blame my parents a little bit. I don't necessarily have the best genes..
Oh, please, you don't know how bad it can get.
(laughs) No, no, they were athletes and I mean good athletes, but they weren't..I don't know if either of them could do a pull up (laughs) ever.
(laughs) No, I'm sure they could. I believe that your mother was actually a volleyball player, as I recall, at Villanova and Penn.
Yeah, exactly, she played volleyball at Villanova and Penn. She loves to come to the games (laughs).
She follows me on Twitter. I'm very careful about what I write.
(laughs) Don't worry. Yeah, she's very interested in the program.
Just out of curiosity, in retrospect, what was your experience like playing with a point guard like John Wall? 
Well, he was just a great player and he made things very easy. You know that was a really fun time because I was playing AAU with him..
You guys were like rock stars.
(laughs) Yeah, it was a pretty cool time to be in Raleigh. It was a special time for basketball in Raleigh and, since then, it's really grown.
You guys definitely helped it.
Yeah, and especially the private schools. The private schools have become the best basketball in the state of North Carolina in a pretty short period of time.
I was talking with your guy, (Anton) Gill last year in Pittsburgh.
Oh, yeah, Anton.
He said that he was training with you and that you were giving him some direction. So, you'll verify that he was working with you?
Oh, yeah, he was and he's a great kid. He's a talented kid. It's just been cool to see. You know there was a group before me a little bit and then, as I came into high school basketball, it really started to pick up. There's some really good basketball in the state of North Carolina and that's pretty cool…and, with John, he just made things easy and it was fun. We were playing AAU together, but then, during the season, we were, like, rivals. We would play him at Word of God.
Was he a generous teammate? I found him very likable and down to earth, despite what seemed to be, like, an entourage of people trying to get a piece of him. On the court, he seemed to be generous and he was just so blazing fast, but, as his teammate, I wondered how you felt..
Oh, no question, he was very generous and made his teammates better. He's, you know…he's continuing to get better and it's great to see, for him, that the Washington Wizards are starting to get better.
They're starting to get a few pieces and looking for more character guys.
Yeah, they've been adding. It's been tough to go somewhere that hasn't been winning and..
It must be frustrating. 
Yeah, and, you know, when you're not used to it and you're that good of a player.
Yeah, absolutely.
I mean I've talked to him and he's excited about the future and he liked the opportunity of playing with the USA team. That's pretty cool. It was fun, though.
Thinking about chemistry…With Mason Plumlee, have you guys developed a semblance of a chemistry? I always wondered if you viewed him as a bit of a rival.
Well, I guess a little bit since he beat us in the finals. We really didn't play in the regular season that much, though. We saw him in tournaments. No, but Mason is an unbelievable person to play with.
No, I had interviewed him a lot of times in high school and, in those days, I thought he was about the nicest kid that I had ever interviewed. I've seen him at events and some games since. As his teammate for three plus years, he hasn't changed much, has he?
(laughs) Oh, no, he's a great guy and, on top of that, just in terms of basketball, the way he plays. I think we really complement each other well. We've got kind of an inside-outside thing going on. We both have good passing ability.
The scout noted that, by the way.
(laughs) Good, he's just great. He gives me so many open looks, when he's in the post and I'm up top. You know when a big helps down or whatever. 
You guys are both very good high-post passers.
Yeah, that's something we, you know, have become pretty good at and we need to continue to do in games. That's a thing that can help our team win.
 In terms of winning the National Title, on that veteran laden team, you obviously didn't necessarily have the huge impact like you did in either your junior or sophomore year, but what was the experience like for you in winning the national title? You also obviously were a contributor and you played in the Final Four. What was that experience like for you?
Yeah, yeah, yeah, it was something that I'll never forget. You never know. You want to, but you never know if it'll happen again and so that's what made it so special.
Lightning striking once.
Yeah, you never know. That's what we compete for every year because you simply do not know. You have to strike when you have the opportunity.
I'd like to get to that and your thoughts on this year in a moment.
Yeah, exactly, but, one was seeing what it took. You know guys like Brian Zoubek and Lance Thomas doing something special.
Those guys were from a neighboring state and I thought Lance especially had good leadership skills.
Oh, yeah.
Maybe you can touch on that for a second.
Yeah, yeah, they were great leaders and, you know, they were the type of guys…You know that I was kind of the fifth big and I was built with a little bit different skill set.
Absolutely.
  I had to get my body into a position where I could truly compete at that level, but everyday Lance and Brian came to get me, Mason, and Miles better. In turn, that made them really, really good and they played great at the right time.
 Do you find any parallels between that and you with Marshall and Alex Murphy and even Amile with his skill set?
Yeah, absolutely, it's important to... 
Take them under your wing.
Yeah, take them under your wing. You know, it's about teaching the culture. The culture of Duke basketball and that was something that we didn't feel like we did an unbelievable job of doing last year.
Yeah, Miles, to a degree, and I'm sure he tried, but, while he's got plenty of strengths, he indicated that he really had to work on his  leadership ability more than some others might have to.
Yeah, he tried and he did a little bit, but he tried his butt off. I'm so happy for him that he's getting an opportunity with the Pacers. I'm just so happy for him.
So am I. I wanted to talk with you about Seinfeld, but..
(laughs) Oh, that's my favorite show (laughs) Great topic.
I will, but I also wanted to get to another long-term relationship that you've had at Duke. Your teammate and roommate Andre Dawkins… You seem very tight with him, well, at least, as far as I can tell.
Oh, yeah, we're really close friends and, um, this time..
He's gone through his ups and downs.
Yeah, he obviously had a big shock in his life. That's not an easy thing to go through.
It's about as devastating as it gets.
Really, I think that it's going to be big for him and his career to just take this time and step away from basketball.
Sure. The reason why I brought it up is because, without putting you in any type of an awkward situation, you're about as close to him as any teammate and would be a good person to offer your thoughts on him and his situation.
Oh, yeah, yeah, I can say that Andre will be a friend of mine forever. No matter what…and he can be and he has been for us, at times, a terrific player.
Well, I mean you just go back a second when we were talking about the national championship. Without him against Baylor, you may not have won the title. He was as clutch as it gets. It's as simple as that. Those shots against Baylor were pivotal in winning that national title.
Absolutely, those shots against Baylor (laughs)… I mean as a freshman too.
Bang. Bang.
He's got some cajones with him and he can shoot the ball.
He's always had that confidence.
Oh, yeah, it's funny back…I didn't even know him at the time, but it had to be like my sophomore year in high school. I came over to play over at Duke and Andre was visiting. He was just a freshman and I was like, "Who is this kid?"
(laughs) 
He had more confidence than anybody playing in the gym.
About three years ago, I was at the LeBron camp in Cleveland and interviewing Kyrie… and Dawkins was playing. Sullinger, who was a bit of a bully, kept knocking Duke and saying things that, well, can't be repeated and Dawkins was getting more and more angry. Finally, he just went up and tried to dunk on Sullinger.
(laughs)
He didn't, but it was more of a street ball way of sending a message. He wasn't going to take it anymore. I was impressed that he stood up for Duke and Sullinger kept his mouth shut for the rest of the game. 
(laughs) Oh, yeah, he loved Duke and he's such a talented kid and he's talented not just on the basketball court and, so, he'll be fine. He'll be fine.
What have you been working on this offseason? You've been in Vegas a lot this year. It's a bit unusual.
Yeah, you know, last year, I came out here actually with John, but it was just for, like, a long weekend and I liked the experience of going up against some of the pre-draft guys and guys who were NBA guys, who were really good players.
Is that at Impact? Impact Academy?
Yes, exactly, at Impact. This summer, you know, I though it was an opportunity to make me a better player and, you know, I have one more year of college basketball, which is huge for me, and then it's trying to make it at the next level. Those are my goals. I have goals for next year. I'm also going to have goals for past that. I have to do everything that I can to achieve those goals and I thought that this was a great place to help me get there.
Forgive me, but what's the sort of time period that you've been doing this? 
It was in June. For about two and a half to three weeks, leading into Amar'e (Stoudemire Skills Academy).
Okay.
So, yeah, in the beginning of June until towards the end.
Who did you train with? They've been able to get some very good players over the past few years.
Oh, yeah, there were a lot of good players. I mean in the ACC, there were guys like Xavier Gibson, Maalik Wayns, Dion Waiters, Ashton Gibbs…I mean there were a lot of talented players.
He's gotten a good mix over there of guys trying to make it, first and second year pros, and some younger talented players.
Yeah, there's talented people and going up against players who are competing to make it in the NBA.
And you're doing it a year in advance.
Exactly.
That has to be a good experience for you.
Yeah, and I know that I got better. I was working a lot in the post and a lot with that deeper range three obviously.
Which you've been hitting, of course
(laughs) It was big because I need to speed up my shot a little bit and I think I was…I know I can shoot the basketball, but I can't be thrown off by someone running at me…fast.
Right, it's got to be an instant reaction, at times.
Yeah, it's got to be catch-and-shoot. It's something that I think that I've gotten better at this summer and, you know, this is an exciting time because you see yourself getting better.
Right.
It makes it fun.
It's that fine tuning of an instrument or tinkering with a machine. 
Yeah, yeah.
In terms of recommendations by the coaching staff towards achieving your pro potential, one thing that Kyle (Singler) had mentioned was that the staff wanted him to watch three NBA players. Danny Granger and Mike Dunleavy were two of the players. Did they make any suggestions, in terms of NBA players, for you to watch?
Yeah, yeah, yeah, a guy that I like to watch a lot is Ryan Anderson, down with the Orlando Magic. He had a tremendous year.
Sure, a 6'8" great shooter, who Coach Van Gundy utilized quite well last year.
Yeah, he's a great shooter. He can pick-and-pop. I think that I've got some skills that he has, but the biggest thing that people have seen and I've got to continue to show it is that I can shoot the ball well for a guy my size. Then, I have to be able to rebound the ball and defend my position.
You've got some valuable and clearly demonstrated skills, but I think that the more you can demonstrate that you've added those last two things, well, the better off you'll be financially because you'll be rapidly moving up the draft boards. 
Yeah, exactly, I know that I can score the basketball and I know that I can pass the basketball and, if I can do those other two things better, I can put myself in a position to…
Make a lot of money.
(laughs) Yeah, that's the plan.
 Meeting Bill Cowher. I can't say that I really get intimidated by meeting anyone..
(laughs)
..but, just out of curiosity, what was it like meeting Coach Cowher for the first time? He seemed to be a very intense coach on the sidelines. Somehow, the image of him in the doorway when you're trying to pick up his daughter on a date..  
(laughs) Oh, yeah, no, it was pretty neat. I had actually met him before I started dating my girlfriend. So, but, yeah, he's a great guy and it's also real cool because he knows the game of basketball and appreciates the game of basketball and he played it.
CBS analysis as well.
Yeah, he did the CBS stuff with basketball as well. So, I can always throw something off of him. He's real supportive and I never saw him when he was coaching personally.
It was just something that I always wanted to ask you about if I ever crossed paths with you.
Yeah, no, but he's a great guy…and I haven't gotten into too big of a trouble with him yet.
(laughs) I'm sure you won't.
(laughs)
In terms of your leadership, what did you learn from being a captain this past season that you hope to improve upon for this coming season?
You know this year was a learning experience for me as a captain. It wasn't easy. I think I'm somebody that certainly has leadership ability and I tend to lead more by example than by using my words.
They say that the quarterback Johnny Unitas used to end every pre-game meeting by saying, "Talk is cheap. Let's go play." You're trying to lead through your actions.
Yeah, that's a huge part of leadership. I think I have that and now I have to continue to expand my leadership ability and communication, on and off the court. I think that's something that I can do better this year. As you know, we have a great senior class who certainly have ability on the court and also have great leadership ability and, you know, that's just another reason to be excited.
I mean that's one of those things where you look at the track record of really successful teams, championship-caliber teams, and it's often senior or upperclassmen leadership with quality talent.
Absolutely, it's a big part of winning and, you know, a lot of times a lot of the closest teams and the most highly knit teams are the ones that win it in the end. That's not to say that we weren't tight last year. Things obviously have to fall the right way, but you need to be a real team.
You've obviously had teammates, friends, and competitors get drafted, but what was your initial reaction to Miles and Austin getting drafted in the first round?
They're both, well, I mean Austin first of all is obviously a really talented kid. He had a really good freshman year and then we expected what he was going to do. 
He was a surefire "one-and-done," but Miles..
Yeah, Miles, I was so happy for him because he was one of the hardest workers I know. You know he's such an incredible athlete.
He's also smart, like yourself.
(laughs) Well, thanks. You know that I'm glad that people saw that ability because we always saw it and he did a lot of things for our team that people didn't see necessarily, but there were spurts of that athleticism shown..
That's what amazed me. That his athleticism, which was so highly coveted and talked about in the pre-draft process, was not necessarily recognized until it was so late in the overall process. Because he had been demonstrating his athleticism throughout, if they had just watched for it.
Yeah, I know. I think in the setting that he was in, with the pre-draft stuff, he really showed his ability and I'm really happy that he stepped up in that time. He really went out there and just got it. I think that he's going to be the type of kid that plays for a long time.
Just out of curiosity, did your father ever talk to you about Chris Dudley? I know that he was one of your father's college teammates, but he may or may not have spoken to you about him?
Oh, yeah, sure, he talked about playing with him and how talented he became.
He still has the record for the longest NBA career of any Ivy League player.
Yeah, I knew he played for a long time. My father talked about how he worked really hard and developed at Yale.
He was able to carve out a niche in the NBA by blocking shots and rebounding, but you're a much better free throw shooter. 
(laughs) Oh, I'm not so sure.
Apropos of nothing, but do you remember living in New York at all?
Oh, yeah, I don't remember a lot because it was the third or fourth grade, but we always went back up every summer for my dad's basketball camp.
Oh, he ran a basketball camp too. Forgive me, I didn't even know that.
Yeah, he ran a basketball camp because he coached at Trinity-Pawling.
Right, I knew that.
I don't know if you know the name Heshimu Evans. He played at Kentucky.
Yeah, sure, he was also with Coach Fraschilla at Manhattan.
Yeah, exactly, and then he went to Kentucky. My dad was, like, his PG (post-graduate) year coach.
He was a tremendous player.
Yeah, he coached some very good players.
Heshimu was an absolute "freak athlete." 
Yeah, he was a heck of a player. He might even still be playing overseas. So, my dad always ran camp and we always went back every summer, but, because there's no newspapers up there anymore, it's impossible to advertise, and we're so far removed that we had to stop. You know those are the times that I remember the most.
Somebody wanted me to ask you about your vertical. 
It's actually pretty decent. (laughs)
That's what they had heard. It was somewhere between like thirty-one and thirty-four inches. 
Yeah, I think it was measured at like thirty-three… at Duke. I don't know if it necessarily shows on the court.
No, no, forgive me for even asking, don't worry, I was going to kill him if you said, like, a foot.
(laughs) I think I'm more athletic than people realize at times. I'm tall and long, but there's no question that I have some physical limitations.
But, if you have that kind of a vertical, that'll grade out well.
Yeah, exactly, and, you know, I believe that I have the tools to play at the next level and play for a long time. So, that's what I believe.
Hopefully, you do play for a long time. We touched on rebounding a little bit before, but, with Miles not being there this year, it creates a bit of a vacuum. What would you like to bring, in terms of rebounding, this year to the team?
Yeah, you know it's going to be huge for our team that I rebound the basketball this year. I didn't do a terrible job last year, but I could've done better. Something that's really big for me is getting explosive and getting rebounds outside of my area. I'm pretty good because I've got good hands and I've got the balls that are coming to me.
If it's, sort of, within your vicinity, you've got it. The next step is being able to expand your region.
Yeah, it's being explosive enough to get rebounds outside of your area.
Even today, in the morning drills, you showed the guys that you're able to go get it… outside of your space. Battling against one of the best bigs in college, Jeff Withey.
Yeah, yeah, that's what I needed to do.
With the new guys, in particular, Marshall and Alex, you've seen them in practice. What should fans expect?
Marshall plays his butt off.
He always ran like hell.
Yeah, he runs like crazy. He goes after every rebound and he really knows his role.
Has he improved substantially over the past year?
He's gotten much stronger. You can't move him now. It's unbelievable. He's become a lot stronger. He's still growing into his game certainly and his body, but he's going to help us this year. He'll be important. And, with Alex…Alex is a really talented kid. I think, at the three position, with his size, and his ability to shoot the basketball, we're real hopeful that he's going to be huge for us next year. I think we're already seeing, with the numbers that he's putting up overseas, what he's capable of.
Yeah, he's putting up great numbers.
He's putting up great numbers and he's, you know..
He has a competitive fire that I think could frankly also help out the squad a lot.
Oh, no question. 
I don't know if he still has it.
Oh, no question, he still has it. In every drill, if he's in a drill, he tries to win it. That makes for a great practice.
In high school, he had actually talked about you. I don't remember if it was on the record or whatever, but, of the Duke guys that he wanted to emulate, he liked your inside-outside game. 
Yeah, yeah, yeah, and that's something that he can do. He can play inside-outside and, especially, with him, you know that he's really athletic. So, he can really play that three position and get those mismatches. If a small guy is on him, he can take him inside. If it's a bigger guy, go right by him.
Has he gotten bigger physically and stronger as well?
He's gotten stronger by a lot. There's no question about that. When you're red-shirting, you're in the weight room a lot.
I would think so. I mean what else are you going to do.
(laughs) There's no question that we saw improvements in his physical ability and also on the basketball court.
I was looking at your statistics and I was wondering if you had given any thought to potentially being a one thousand point scorer. I was seeing that you, Mason, and Seth Curry could all, relatively realistically, reach that distinction. I didn't know if it held any particular value or meaning to you at all. I don't know if that distinction still quite holds as much luster as it did in the past.
It would, sort of, be a cool thing. It would be a cool thing, but you can look at individual accomplishments when you get past them. That's how I look at it. 
I frankly don't know why I even asked you that, but I guess I was just curious. I like to know what motivates different people and how their mind operates. 
No, no, there have been a lot of really good players. I've been fortunate enough to play with a lot of people that've scored a lot of points.
Taking away your opportunities.
(laughs) No, no, I've been able to rebound the ball. That's something that hopefully I'm able to do. Hopefully, when I look back at it, when I'm fifty, I'll think that was pretty cool. I've got to do it first though.
What's your relationship been like with the Duke coaches and how has it grown?
Oh, it's been huge and, with Coach, you know, it's hard, freshman year, it's hard to really communicate with your college coach. You know they really try to communicate with you. When you're young, you don't really understand it and it's been important for me, especially after this junior year, to really stay in communication with Coach K.
 Have you seen a metamorphosis with regard to that as well?
Oh, there's no question about it. He's always been there to try to communicate with me, but it's got to be my effort to do so.
One thing that I often find striking about him is his candidness. There are a lot of guys that will pull punches or, well,…he's very honest.
(laughs) He is. He's very…(laughs)
Well, I guess it's either refreshingly honest or brutally, depending on your perspective.
Yeah, in a lot of ways, I think that's what makes him so much of a great coach. He's always honest with you.
You know where you stand.
Yeah, that's exactly it. You know it's been a blast to play with him so far and I think that this senior year is going to be really special for us.
 What about the assistant coaches as well? Your position coach.
Oh, I mean, with Coach Wojo, being our position coach, you know, I've really become close with him. He's somebody that, well, all of our coaching staff, but, especially Coach Wojo, I know that he would take a bullet for me. That's something special to have that kind of relationship. You know I have great relationships with all of my coaches, but you know that we kind of have a special one.
Sure.
He's kind of the one at my end of the court always when we're doing drills and doing different things and in the film room and doing or giving the extra time. When you know that people really care about you doing well, that's a special feeling.
It's almost like a secondary parent.
Yeah, that's exactly what it is.
With this relatively newfound physique, if you will, have you become more comfortable with physical play and how has it improved your defense?
Yeah, the game is a really physical game and (laughs), like I said, I wasn't able to do or be that early in my career. I wasn't able to play that physically. 
But now, at over 230..
I have the ability and I have to keep getting better and stronger in my legs especially. You know I have to be able to, like I said, defend my position. In the ACC, especially, there's…it's a little bit different in that a lot of the fours are smaller players. I have to have the lateral quickness to defend them. That said, there are also some guys that I go up against that are big, strong guys and I have to be able to defend them in the post as well. So, that four position, depending on who you're playing, can be dramatically different as well. 
I think the three and the four positions in college are the two really, well, interesting positions in college right now.
Yeah, they're interesting..
Difficult and varied too.
Guys are different size ranges and have unbelievable athletic ranges..
From 6'7" to 6'11," you may have to defend them.
Yeah, whoever's up next. You've just got to defend them and prepare for them.
Who has been the toughest guy for you to defend, so far?
Well…
Some guys, for example, mentioned Mike Scott at UVA this year was a difficult match-up. 
Yeah, he's a great player. Even if I…Even if there was somebody, I probably wouldn't tell you. (laughs loudly)
Alright, alright, I shouldn't have asked. That's fair and totally understandable.
(laughs) 
There's a lot of comparisons made of you to European big men. I'm sure that you've seen or heard the comparisons. What do you make of them?
Oh, yeah. Well, first off, I'm white.
Right, that appears to be the case.
(laughs)
You're also of a certain height.
Yeah, you know I have some abilities that European players have and then I'm a face-up big. I think those things are a hot commodity right now in the NBA and that's what's pretty cool about the comparisons.
Before we run out of time, let's talk about your charity work.
Yeah, yeah, yeah, let's plug that. We've got the web site up there and everything. Well, I'm doing an internship this summer and really I'm going to continue to work with them, but specifically this summer with Monday Life. It's an organization that helps children's hospitals to better the environment inside them. You know that kids are in there…when they're in there for long periods of time.
These are for extended periods of time.
Yeah, for people that are, well, it's for anyone, but especially for those kids that are in there for long periods of time. The experience…different hospitals have different things for them to play with or whatever it is. This summer, we're really focused on raising money so that we can get the kids the kind of things where they can enjoy things as much as they can..
Oh, so, that's the connection. I was wondering how you became involved initially.
Yeah, and it's a former manager, Joey McMahon, who started the organization.
At Ravenscroft?
No, at Duke.
At Duke?
Yeah, and he's a great guy. I'm in the process now of setting up fundraising pages for all of my teammates. They've all wanted to be a part of it. It's pretty neat.
It's good to get a commitment from those guys as well.
Yeah, yeah, yeah.
Demonstrating some of that leadership ability for a good cause.
Yeah, and we've gone into Duke Hospital and done some work.
Is the organization affiliated with Duke Hospital or a few, particular hospitals?
Yeah, there's a bunch that have signed up from across the country, but Duke Hospital is first up and we'll go over to Duke Hospital every once in a while and we'll just talk to kids. 
Brighten their day.
Yeah, and see what they like and don't like and what we can do to make it a little better. 
I see.
And, so, it's a pretty amazing thing. It's something that I've become passionate about.
I can sense it in your voice and you've certainly brought it attention through Twitter.
Yeah, I've tried.
Raising money through social media.
It's been amazing to see people's generosity.
Microfinancing and "crowdsourcing" have become buzz words, but it's nice to hear it used for a good organization.
Yeah.
There's no good transition, but I was looking over your statistics from this past season. You shot over forty percent on your three-pointers. Technically, you were actually Duke's best three-point shooter this past season.
Yeah, yeah, yeah.
I mean I knew you shot the ball well, but I must admit it was a little bit startling to see that you were actually the best. 
Yeah, I shot the ball well.
Off hand, I would've thought that Seth Curry would've been up there.
Yeah, no, he shot well too. I think I can shoot even better than that.
That's what I was going to ask. Where do you go from here?
I think that I can shoot better because, to be honest, I have the ability to shoot, but I've also been pretty streaky. I mean I've gone through stretches where I won't miss.
Oh, yeah, of course, you had that streak of eighteen straight shots. Sure.
Yeah, that was something. I also had some time there where my shots just weren't falling, but, fortunately, at the end of the year, I shot the ball well. You know I think I can be better at it and that's why I, like I said, I'm trying to improve and that's where, you know, I shot forty percent, but I can shoot a lot more shots.
That's another thing that I was wondering about. You took about one hundred threes. Do you think that you'll go up to about one fifty or one twenty-five? Not that you're consciously trying to aim for or think about a number.
Yeah, I don't want to put a number on it. It's hard to put a number on it, but..
You're a team player. If it happens, it happens.
 If you look at players who played a similar position or positions to me at Duke, you know, guys like…well, I'm a big stats guy and I like to look up stuff like that and so does my father.
Yeah, I always like to look at them, in terms of history.
Yeah, just seeing what guys who played a similar position to you at your same school accomplished. You look at a guy like Shane Battier in his senior year. Not that we're the same player, but we play a similar position. We play that stretch four a little bit and, you know, a guy like him he was getting close to seven three-pointers a game.
Wow.
Yeah, I never thought that. I knew that he obviously shot the basketball well and shot three-pointers, but I never would've guessed  that he shot seven threes a game. That's a lot of threes. 
Yeah, definitely.
Yeah, and I think he shot about fourteen shots.
Those guys played so fast.
Yeah, but I believe that, if I shoot the ball as well or better than I did, I need to shoot more because that's a good thing for our team.
In terms of quick hitters, ballhandling..
 Oh, that's going to be a huge thing for me. It's something that I've always had a little bit of a feel for in the game, but..
You've had that two to three dribbles and "boom."
Yeah, yeah, yeah, now, I need to be able to improve being able to make more than one move because at the next level you can't just make one move.
 This is your last go around. Has it hit you yet? Does it make you emotional?
It has. I don't know if it's emotional, but..
It's something that you're cognizant of.
Yeah, definitely. Now, I've got one more shot at it and you know I want to win championships.
Yes.
I mean I've got one more shot at it.
Well, maybe we'll end it with that. I was going to ask you about tearjerkers.
(laughs) Oh, man. 
(laughs) I remember that you had a list of top tearjerkers.
That's going way back and far too embarrassing. (laughs)
Alright, metamorphosis and maturation.
Clearly, I've shown a lot of that. My game has changed. I'm..
What were you like in high school versus now? Other than your hairstyle.. 
(laughs) Yeah, I don't know what's going to happen with this. It's getting really long. I'm going to need a Scola headband or something like that.
(laughs)
No, but my game has changed. My maturity level has changed. You know I scored with the basketball, but I needed to adjust to the speed, the strength, and the athleticism when I went up into this next level. I really felt like my freshman year was a huge learning experience for me. I mean I won a national championship, but, like you said, I didn't play.
Well, you played in five of the tournament games and scored in the Sweet 16.
Yeah, yeah, yeah, but you were right. I didn't play then and that was just motivation. I try to find motivation.
Sort of, your internal fire.
Yeah, exactly. That's something that I told myself where, if I get there again, I want to be on the court. I want to be there and I want to hit that game-winning shot.
Lastly, what are thoughts on Duke's chances this year and just any general thoughts on this team?
Yeah, we go into every year believing that we're going to win championships. This year, we have the talent to do that and, if guys come ready to play and compete, we can certainly go get one. So..
Thank you very much, Ryan.
No problem. 
It was nice to meet you.
Yeah, you too.
Oh, you mentioned before that Seinfeld was your favorite show. Did you have a favorite episode?
Yeah, oh, man, I can't believe that I can't remember the name. It's the one where George (Jason Alexander) goes, "The sea was angry that day, my friends, like an old man trying to send back soup in a deli."
(laughs) Oh, "The Marine Biologist."
Yeah, exactly, "The Marine Biologist." It's a classic! (laughs)
Absolutely, thanks again.
You're welcome. I appreciate it. [/private]