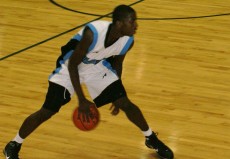 ORLANDO - The super showcase is underway and the nations top college coaches fill the gyms as a multitude of teams take to the hardwood.  The vast majority of the games are on the property of Disney Wide World of Sports.  One facility features six games going on at the same time, the other, four.  The best thing is that you can troll around the top and see all the action and clear netted partitions allows you to see scores on all the courts.
The top performance I saw today was Austin Rivers nailing seven three-pointers on his way to 30 points, leading his team to an easy win.  Each One Teach One, being a local Florida team, drew a good crowd, but all of the games were well attended.  Where else can you sit and see All Ohio Red, Team Final and Albany City Rocks in action at one time?
Speaking of Team Final, a bevy of coaches from schools like  Kentucky, Duke, Kansas, Indiana, Texas and many others turned out to see a loaded team.  Michael Gilchrist, of course, was a main attraction and he didn't disappoint, scoring in many different ways on his way to 23 points.
But who was the Duke staff watching?  Well, [private] Duke Assistant Coach Chris Collins watched Albany City Rocks in the morning game.  Collins watched CP-3 and PJ Hairston before heading out to a local high school to see Brad Beal.  In fact, he watched Beal after the Albany City game and, make no mistake, the word is that Duke is very much in the race and he will not announce early as has been reported.  In fact, Beal will likely attend the Duke Elite Camp in August.
Collins also took in Kyrie Irving twice today, but the Roadrunners struggled to a total of 39 points in their first game.  Irving scored 19 points under my watch, but I counted 6 turnovers.  It's clear to me that Kyrie Irving is a top Duke target if not the top one with concerns to point guards.
Roshown McLeod looked a little weird in Indiana Red as he stayed close to Tom Crean.  We chatted with Ro, more on that later.  Also, rumbling of Josh Selby leaning towards Kentucky seem legit, but expect to wait for things to cool down a bit.  FWIW, only Duke and Kentucky watched Irving in the game I saw, and they will be at all of his games in the coming week.
Coach Krzyzewski will roll into town on Monday after his duties with Team USA on Sunday.  Wojo should be present as well.  UNC was reperesented by Joe Halliday and everywhere you turned you rubbed elbows with coaches.  Lots of rumors floating around about Will Barton, and Austin Rivers was seen chatting with PJ Hairston.
Anyhow, just settling in and will be on the scene for the next five days.  I will chime in when time allows on the message board, but the first day is getting to know the lay of the land so to speak. [/private]