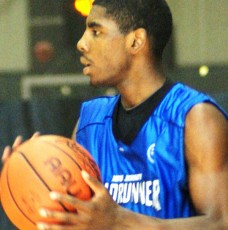 Here is anther team and recruiting update from BDN Premium where we touch on some sensitive issues, what happened in Orlando and so much more.  Duke expects Kyrie Irving to visit [private] campus in early September, but there are no firm plans for him to visit with Harrison Barnes as some public message boards have claimed.  The two have talked but that is normal among the current batch of Duke prospects.  In fact, it was interesting to see Austin Rivers just after his game in uniform to talk with Andre Dawkins as he was preparing to play.  But there was a third wheel in the conversation, namely Kyrie Irving.  While it would be unwise to see this as just a positive spin, it would be just as unwise to play it off as if it meant nothing.  In short, we should probably land somewhere in the middle in our thoughts on the gathering.
Duke is down to Kyrie Irving, Harrison Barnes, Brandon Knight and Roscoe Smith in 2010.  Duke is concentrating completely on Kyrie as their point guard of the future at this time and they feel there is an excellent chance he will become a Blue Devil.  Roscoe Smith still has an offer should he want to come, but there are no major efforts with his recruitment at this time.  Duke would be more than happy closing 2010 with Barnes and Irving alone.  While Duke still has some backup plans, they are putting an all out effort to finish  with Barnes and Irving.  Once they get those two, they would turn their attention to Brandon Knight.
Duke has of course offered  Quincy Miller and they are looking at a bushel of players in the class of 2011.  The staff took a look at Marshall Plumlee in Las Vegas and I feel that he will get an offer in short time.  The staff took a look at some new kids as well and I hesitate to mention them for as soon as I do, the other sites will magically have them.  Let's test the waters since no other site is aware of who they were watching.  On second thought, we'll make that a separate article in the coming days and cut it short to get this update out.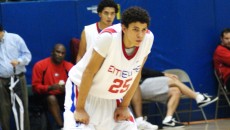 There will be an official announcement concerning Andre Dawkins in the near future.  He has one course to be credited with and he has a passing grade, so he will soon be on campus getting acclimated to his environment.  We'll  have more on this shortly.  The staff is very pleased with the recent play of Josh Hairston who was given a few things to work on during a recent campus visit.
Whats up with Austin Rivers?  Let me put it like this, Coach K made no bones about it in that he has interest in Rivers.  Billy Donovan and the UF staff were likely surprised when Coach K made it a point to be front and center for Rivers games.  In fact, when Douglas Dad [see below] approached K, he had gone up the side of another gym to watch Rivers leaving his assistants behind.  As it turned out Rivers played in the first half, but they rested him in the second, so he left.  I sat near the staff during one of Rivers games and it wasn't hard to see that he glanced over towards Krzyzewski on several occasions.  While Rivers maintains he is firm with Florida, he will almost assuredly visit Duke.  In fact, I am trying to figure out how to present a brief interview I did with him.  Make no mistake, his father wants him to make sure of his choice so some visits will be in place.  It doesn't hurt that Doc and K are close from the Olympics and other functions.  This is a very sensitive issue, so anything you read at BDN should stay here.  Rivers camp has contacted Duke, but this one is far from over.  While smart money would be on UF, there is more than a little something going on with Rivers and once he visits others schools, he just may find that the perfect fit is elsewhere.  K has had super success with players who have NBA lineage and with their facilities, a basketball first school and his connections, Duke may just make an impression.  Stay tuned.
During the AAU Nationals, fans could be seen taking pictures of Krzyzewski from the balcony.  There were several instances where Coach K was approached by a throng of admirers, but he had to turn them away due to NCAA rules of contact in that some of them were student athletes.  In short, everybody noticed K and wanted a piece of him.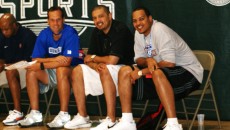 I would like to share this with you for it is a testament to the respect and admiration Coach K has even among his opposition.   I happened to be nearby when a gentleman walked up to Coach and had a very appreciative look on his face.  He talked with Coach for a few minutes, shaking his hand and thanking him.  When he left, I realized it was the father of Florida State guard Toney Douglass.  As it turns out, Coach made a call to NBA reps mentioning his character and play.  His Dad obviously the unsolicited kind act and you can bet that word of this kind of thing will get around.
All of the men's basketball staff is on vacation or taking a break one way or another.  So, it will be relatively quiet for the next couple of weeks.  Duke will not announce their Elite Camp roster publicly so please do not ask me questions pertaining to this in any forum.  I will tell you what I can as the camp nears and passes. [/private]<