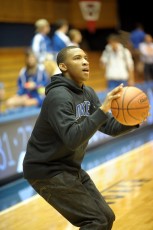 Well, it's that time of year again when AAU ball cranks up and for BDN that means we'll be hitting several big events. Austin Rivers decision to sign with an agent and enter the NBA Draft wasn't that big of a surprise to us and we all wish him luck. Rivers decision is the first thing that will set the future into motion as the staff will be hot on the recruiting trail.  While many Duke fans hate to see Rivers lead, he can help the program at the next level and they will show that shot against UNC several times early on in his pro career.  He joins Kyrie Irving as players kids will really identify with.
I expect Mason Plumlee will (you must be a BDN Premium member to read the 2000 plus word update, so join today!) [private] enter his name into the draft to get feedback as to his draft status which must be done by April 3rd. Plumlee from all accounts is torn about his decision but the departure of Austin Rivers could help. Had Rivers returned the offense would have been run through him and the Blue Devils would have been his team. His high school coach David Gaines said that he was weighing his options and that one thing he would want is more touches or to be used in a more prominent role, It seems part of Plumlee wants to return and finish what he started and play with his brother Marshall for a year. Marshall could surely use his tutoring and Duke could surely use his presence in the paint. But an equal part of Mason wants to go pro and it may come down to where he is projected in a deep draft. It's probably even odds right now but that could change.  If I were to guess, I think Mase will probably want to go through his senior season and be a more focal point for the team but I am not majorly confident with the info I have received to date and it is worth noting that I have not talked this  over with some of my usual sources.
Should Plumlee head to the league with Rivers, Duke will be in major need of a big or two. There are two options, one being Tony Parker and the other Alex Oriakhi, the Connecticut transfer. Should Plumlee go, it would be a match made in heaven with Oriakhi. As for Tony Parker, he announced that he would be making a decision on April 11th and I can tell you now that Duke is a definite player. Coach K locked in on his parents early on and there is a very solid relationship and trust between them. While Parker has seemingly bought into all of the anti Duke recruiting rhetoric and squirmed away at the mention of Duke, he may finally be seeing the light and the opportunity he has stepping right into playing time at Duke. Parker showed signs of getting a bit out of shape at the McDonald's All American drills but who knows the circumstances or that he didn't have something going on? Anyhow, he has trimmed his list to Duke, Kansas and UCLA. IMO, Los Angeles is too far from home unless all his pals go there and that means it is likely down to two, Kansas and Duke. I think the Blue Devils have proximity in their favor as well and may pull this one out. Their odds are much better than they were a month ago at this time and Parker knows he would plug right in. Parker's decision may also effect the aforementioned Oriakhi.
Shabazz Muhammad won the dunk contest and he will choose a school on April 11th as well on an ESPN special. His decision likely has bearing on Trey Zeigler, a recent visitor and I expect nothing will happen with him until Bazz pulls the trigger due to available slots. Duke can now show Muhammad that he can be there next one and done freshman and that may be enough to pull him in. Zeigler offers maturity and the ability to guard certain types of players on defense. It will be interesting to see how all plays out, but I feel one will be on the roster at this time. And there is still the shadow of an NCAA investigation over Bazz and this could effect him going to what many felt the leader has been for months, Kentucky.
The Duke coaches will assault the AAU circuit full throttle before July for that is when Coach K will be heading up Team USA and he'll take assistants Collins and Wojo with him. That means April is an important month and the staff will take in both Nike EYBL sessions and other events I will share at a later date. Jeff Capel, Nate James and Chris Spatola will fill in while the staff builds the team they hope wins gold.
Several Duke Assistants have been considered for other jobs but the info coming in is somewhat shaky so I will not share the rumors. The Illinois job supposed linked three Duke types, Johnny Dawkins who led Stanford to the NIT title game, Steve Wojciechowski and of course Chris Collins. It looks like the job has been filled and Collins was like the next one or two choices had the job remained open. Nothing official while I am typing this though ... It is looking more and more like a mid major stepping stone job may be the ticket for some. Back to Dawkins, he would probably like to go somewhere it is easier to recruit but his Stanford team will compete for the PAC 10 the next two season should he stay put and I expect him to do so.
The coaches will be meeting with players to tell them what to work on for the coming season and what role they envision them taking on.  And you have heard a lot of transfer rumors by now and I fully expect some movement.  It's hard for me to share too much on that front in that it is a sensitive and private issue for the program, but the most rumored kid to leave Michael Gbinije seems prepared to returned and told his AAU coach he knew Coach K knew what he was doing.  It has also come out that Seth Curry can or will graduate and that he entertained going overseas but no firm decision has been made.  It was odd that Austin Rivers seemed to slip and say he was gone in the locker room after the tournament loss, but there was a lot of emotion going on.
I can tell you that there will be a shake up and Duke will try to get back to playing better defense and I expect all players will be challenged and have to earn their time next season.  The coaches, like us. have to let all shake out and each player or prospect move will effect one another with concern to the players/prospects in play.
The Carolina Classic has concluded and we'll add some late scouting reports and get the thoughts of others before weeks end.  I would say Theo Pinson is the only prospect firmly on the radar and while there are other good players, none of them are past the evaluation mode.  For those new to BDN Premium, the evaluation mode consists of players they are putting feelers out on.  Many kids, like prospect Tyrone Outlaw will get a look and he will visit in an unofficial manner, but it is common for local star prospects to drop by campus.  Jeff Capel is the lead guy for Outlaw but I'm not sure he would make the final cut.  However he does add toughness to the team he will play for and he can guard bigger players.  Outlaw will have to improve his perimeter game to become a real candidate.  Duke has showed some interest in Jaquel Richmond as well but something tells me they may not pursue him as hard as some other names.
Another name which has popped up is Christian Harrison of Greensboro Day.  Harrison grew up a Duke fan and of course says he would accept an offer on the spot.  He's a nice late bloomer in the rankings but has very thin shoulder width which needs a lot of added muscle.  He can finish very well and is a smooth player but hangs outside a bit too much for my tastes.  His second game was his worst and his defense was awful at times in that game.  He wasn't playing help D or using his length a lot.  His third game would have one drooling and he played much better after motivational speeches.  I would have to get more views on him to get a real feel.  We will have an interview up soon with him.
The Nike Jordan-Brand Classic is on my agenda where I will see Rasheed Sulaimon play and hopefully one or two more future Blue Devils.  The even on April 14th will allow us to know where Tony Parker and Shabazz Muhammad are going.  There are a slew of UNC and N.C. State guys playing in the event, a game of local North Carolina ballers and an International game.  continues to work Duke prospects as does his future teammate Matt Jones.
The Nike EYBL season starts in April as well and it gets underway with session I  in Minnesota on April 20-22 and then session II in Hampton, Virginia the following weekend.  The event is loaded with Duke prospects and among them are Chicago studs, Jabari Parker, the top rated player in the class of 2013 and Jahill Okafor, the paint eater and key Blue Devil target as well.  Both will suit up for the Mac Irwin Fire again and Parker has been the Blue Devils top target for a long time and as I have said for a year or so now, I feel Duke is in great shape with  him.  Then there is the Texas Titan duo of Matt Jones a shooting guard who has already pledged to Duke and his teammate, the bullish post man, Julius Randle.  If Duke misses on bigs this year, their need for Randle will be dire.  Duke is in good shape and will surely make his final cut and he is right there with Jabari Parker as the most important prospects they will work before Olympic duties.  But rest easy for Duke Assistant Jeff Capel is the lead recruiter for him and that bodes well.    Then there are the two PG prospects, Anthony Barber 2013 and Tyus Jones 2014.    Long time members know I rave when speaking of Jones and I will finally get more views of Barber.  Both are legitimate standouts but Jones to me is special and a winner.  But Jones has the nation after him and he will be a tough get.  Duke will also have their eyes open for other players and by the end of April we should have some new names popping up.  Other names to watch are big man Bee Jay Anya and Theo Pinson to name a few.
By all accounts, Ryan Kelly is healing nicely and he should have plenty of time to have his game together before the season starts.  Duke players had a lot of nagging injuries by seasons end but the Blue Devils do not broadcast them until later and maybe no even then.  Coach Krzyzewski has never been one to share too much in the past.  But it was certainly evident that the loss of Kelly effected the team concept and in hindsight, Kelly added a lot of value to the team.
The take on Amile Jefferson in interesting.  Talk to the NCSU types and they are majorly confident he comes.  Their spin is he is waiting to see what C.J Leslie does, well, I will tell you that he is going pro.  Jefferson has a great relationship with the Wolfpack staff but I feel his heart is with Duke.  I though his decision may be tied in with the McDonald's game but it seems he will watch what happens with team rosters as well as others now.  Jefferson is a nice young man who is likely having trouble telling certain teams no.  Villanova continues to make the hometown push and they are still hovering about but it is down to the ACC schools and I still feel Duke is in the best shape to get his services.  But it's recruiting, so who knows 100% sure what might happen.
So, we are all waiting to watch the McDonald's All American game this evening and to see how things shake out for Duke Basketball.  You have heard me say the following on numerous occasions but it applies more than ever to current situations.  Let it play out.  Freaking out and over speculation is a waste of ones energy.  Watch what prospects do and not what they say.  Actions speak louder than words.
Copy and pasting or sharing any of this article is a violation of BDN Premium  user agreement and could result in a permanent ban.  The information is of a sensitive nature and not designed for public distribution.  Please adhere to the rules you accepted when joining.  More to come on BDN Premium. [/private]