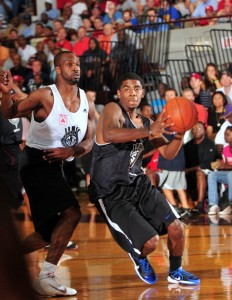 Durham, N.C. - Fans from all across the Triangle packed North Carolina Central University's gym on Tuesday night, as a record-breaking crowd was on hand to see some of the ACC's best young incoming talent on display. Four Blue Devils took to the floor in Tuesday's round of games, including the much anticipated debut of incoming freshman point guard Kyrie Irving. Irving played in the first game where he scored a team high 36 points while dazzling the crowd with his ball handling and crafty finishes around the basket. While his 36-point debut was quite an impressive performance, it came up a little short for Irving as his team fell to Team Navy by 4 points. In the second match-up of the night, Seth Curry teamed up with Miles Plumlee and incoming freshman forward Josh Hairston for a balanced attack to defeat Team 212/Trianglegi.com. Curry led the way with 22 points, shooting 8-16 FG and 3-8 3pt. Curry showed off his array of scoring abilities, dialing in from NBA range while also taking the ball strong to the hoop for several solid finishes around the rim. Miles Plumlee used his athleticism and size around the rim to throw down 2 or 3 rim-rocking dunks, sending the crowd into frenzy on more than one occasion. He finished the game with 21 points and 10 rebounds. Josh Hairston played good defense out on the perimeter and showed some touch on his turn-around jump shot. He finished the game 5-10 from the field for 10 points while also grabbing a team-high 11 rebounds. In the most anticipated match up of the night, the incoming Tar Heel freshmen alongside John Henson, Justin Watts and PJ Hairston took on the incoming freshmen from Raleigh, as it was an old fashioned UNC vs. NCST rivalry game. The game was heated from the beginning, with Harrison Barnes and CJ Leslie going head to head both making plays on both sides of the court. While Barnes led the team with a game-high 26 points, the real story of the game was UNC freshman Reggie Bullock. Bullock used his size and athleticism to consistently drive and shoot over Lorenzo Brown from NCST. The UNC freshmen took home the 10 point win.
As for the Duke players, many were excited to see their future point guard in action for the first time, and he did not disappoint. Coming into the game with virtually no warm up, Kyrie quietly began to assert himself in the first quarter before taking off before the end of the half. He missed on his first few 3-point attempts, however quickly recovered with a few fast break points and a huge one handed alley-oop on the fast break. Irving really shined with the ball in his hands as he used his amazing shift of pace to slice through the heart of the defense either finishing at the rim or dishing off to an open teammate. Irving draws many comparisons to former Wake Forest great Chris Paul, and they are not far off. If Tuesday night was any indication of the type of impact Irving could have at Duke, then Duke fans should buckle up, for it's going to be a fun season. Truly an elite level point guard who will have the ball in his hands early.
Seth Curry's feel for the game is so clear when watching him play. You can tell that he comes from a basketball family and that he knows how to play the game the right way. While a deadeye shooter from 3, Curry has no problem going into attack mode and getting to the rim. He will have no problem playing some point for Duke this season, as his ball handling and decision-making are superb. He showed off his array of scoring tools, getting points from virtually every spot on the floor. He will be a dangerous weapon to put on the floor along side players like Irving, Smith and Singler.
Miles Plumlee has completely reshaped his body and looks to be in the best shape of his life. He is extremely cut and moves as well as any big man you will see at his size. His lift off the floor is much quicker than it was in his previous two seasons as he has turned much of his bulk into pure solid muscle. He showed nice touch with a right handed hook shot and wowed the crowed with his thunderous dunks. While his shot was somewhat off tonight, he showed glimpses last season of hitting the mid range jumper. Rebounding will be a key area of focus for the Plumlee brothers this upcoming season as they look to replace key seniors Brian Zoubek and Lance Thomas.
Incoming freshman forward Josh Hairston blended in well with Curry and Plumlee, quietly doing the little things to help his team. Hairston possesses an athletic frame that will be able to defend out on the perimeter very similar to the way Lance did last season. Hairston showed good form and touch from the outside, hitting two turn-around jumpers on the baseline.
Overall, this was one of the biggest nights in the N.C Pro Am history. With lines reaching over 200 people outside, many were turned away simply because of fire code. With the talent that is showing up, the Pro Am does not look to be slowing down anytime soon. Many suggest getting there up to an hour early in order to secure a parking spot and a comfortable seat in the house.
Will be on hand for Thursday's action and excitement. Tobacco road is showing what it's all about.
- article by Michael Mueller
---