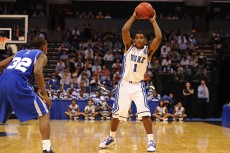 Blue Devil Nation has learned that the first annual Kings of Tobacco Road game which pits Duke and UNC alumni against one another will take place on November 17th at 8:30 PM.  The game will be played at McDougald Gym on the campus of North Carolina Central University right after the Eagles women play.
The game will feature Kyrie Irving, Nolan Smith, Corey Maggette, Chris Duhon, Elton Brand and Gerald Henderson while the UNC roster features former teammates Jerry Stackhouse, Rasheed Wallace, Brendan Haywood, Antawn Jameson, Vince Carter, Raymond Felton and Donald and Shammond Williams.
BDN has learned that the rosters are still liquid and there may well be additions to the game.  JJ Redick has been mentioned on the Duke side.  ACC legend Phil Ford will coach the North Carolina team and talks and the grup hopes to contac Jay Willams to play or coach for the Duke team.
The North Carolina Central Women play at 6:00 but the doors will open and part of the proceeds will go to the team.  With Central packing it out for the N.C. Pro Am, BDN suggests you get there up to two hours before the start of the women's game to secure a seat.  If you purchase a game to the women's game, then you will get one of the best seats in the house.  We'll have more etailed information on the ticket situation on Tuesday.   In short, this place will be packed out with people being turned away outside, just as they were on certain evenings this past summer for the N.C. Pro Am.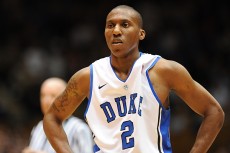 The event is a joint effort between the Jerry Stackhouse N.C. Pro Am group and Bleid Sports.  The two are also putting on Clash in Cameron on December 17th and games will be at NCCU as well.  Stay tuned to BDN for breaking news on both events and we are a proud sponsor of the efforts these two fine groups are associated with.
We should have some roster updates in the coming days and much more so bookmark our site for timely information on the event.