Happy Friday, Blue Devil Nation! A nice, shortened week should make you feel good but if not, Football Friday is here to satisfy your weekly football craving. As you know, there's never an offseason here at BDN, and Mark Watson and Andrew Slater have been burning the midnight oil all week with great basketball coverage. Be sure to check it out, and invite your friends to join our growing community of Duke fans. If you tell two people, and they tell two people, well, then that's some kind of crazy math that I don't remember how to do. Before my brain stops working, we better get going…
Blue Devils feeling the love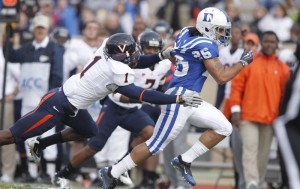 Four Duke players were named to preseason Award Watch Lists this week, while a few others may have been overlooked. Coming off a three win season, it's only natural that Duke might have a few players fly under the radar on the national level, but that should all change this fall, as the Blue Devils pursue bowl eligibility. In any case, it's a nice honor for the Duke players who were recognized this week, and we congratulate them, but look forward to an even better 2011.
Cooper Helfet – John Mackey Award Watch List
Will Snyderwine – Lou Groza Award Watch List
Donovan Varner – Biletnikoff Award Watch List
Conner Vernon – Biletnikoff Award Watch List
The Dondo Files
Part of our job here at BDN is to help give fans an inside look at the Duke players and coaches. Sometimes, however, the players and coaches do the job for us. This week, Duke's star senior WR Donovan Varner created the first entry in his self-produced video blog, The Dondo Files. Varner is poised for a big senior year, and we hope his video blog will be a good inside look into his season, and the Blue Devils' first bowl game in over a decade.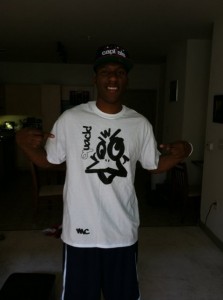 Middle Child
Another interesting venture by two Blue Devils is Middle Child, a clothing line created by Johnny Williams and marketed by Matt Daniels. For those who missed Johnny's cartoon series for GoDuke last year, take a look at his clothing designs, which show off the Duke cornerback's impressive artistic ability. And if ndotsmitty is wearing it, you know it's hot!
Doing work in the classroom
While we're applauding the Blue Devils' off the field efforts, it's important to point out that last year's team had a cumulative GPA of 3.1, which included 13 ACC All-Academic selections, more than twice any other school. As we've said before, it's great to see that as Duke builds the program on the field, they continue to uphold the university's strong academic reputation. The Duke players are setting themselves up for a great future and truly embody the concept of the student-athlete.
Come on, come on…
Kickoff on September 3 is just 57 days away, with training camp opening in just a few short weeks, so be sure to get your season tickets now. With spring practice having wrapped up in March, it's been a long time since we've seen the Blue Devils on the field in Wallace Wade Stadium. For the Duke Football faithful, we share your pain, and hope that these last few weeks fly by. We've kicked off our opponent preview series this week to help speed things up for you. Be sure to check out the Richmond preview, and check back on Sunday for our Stanford preview. In the meantime, if anyone happens to see me camped outside of Wallace Wade like Eric Cartman waiting for the Nintendo Wii, can you bring me a sandwich?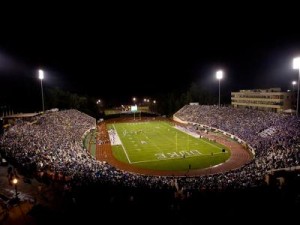 Please make sure you have all your belongings…
…as you exit Football Friday. While we love to share with the whole class, we also like to reward our Premium Members. We have the latest recruiting information for Duke's class of 2012, and well, you'll just have to join to find out…[private]
A slow recruiting week!
We're all for the fast-paced summer recruiting season, but it is nice to be able to catch your breath every once in awhile. While it's impossible to predict things in recruiting, it seems like things may slow down a little bit as we head into training camp. Duke has 13 commitments in the class of 2012, with an absolute maximum of 18 scholarships available. The coaching staff would like to add 4 more players to this class, and will hold a spot for a potential program-changer, should he decide to be a Blue Devil late in the recruiting season. Here are the staff's remaining targets.:
Running backs
Jela Duncan 5'10" 190 pounds, Charlotte, NC
Todd Gurley 6'1" 195 pounds, Tarboro, NC
Linebackers
Marcus Allen 6'2" 210 pounds, Hilliard, FL
Keilin Rayner 6'3" 220 pounds, Leland, NC
Wide Receivers
Drae Bowles 6'1" 198 pounds, Jackson, TN
Anthony Nash 6'5" 185 pounds, West Chester, PA
Defensive linemen
Torey Agee 6'3" 250 pounds, Opelika, AL
Woody Baron 6'3" 252 pounds, Brentwood, TN
Korren Kirven 6'4" 272 pounds, Lynchburg, VA
David Reader 6'2" 340 pounds, Greensboro, NC
Nigel Williams 6'3" 260 pounds, Richmond, VA
Courtnye Wynn 6'6" 240 pounds, Norfolk, VA
A couple notes on this group: Todd Gurley has been in France, running track for Team USA, which has led him to miss "The Opening" in Oregon this week. Korren Kirven is the only member of this group that is in Oregon, and while Duke has made a good impression, the reality is that he may be a long-shot for the Blue Devils. Woody Baron, as we reported awhile ago, appears to be down to Virginia Tech and Vanderbilt, but if Duke could get a visit, you never know.
Do you like surprises? Well, I actually am not a big fan, so I'll just give you the update. Once the dust settles on the LBJ and Adidas coverage, we'll have new interviews with Marcus Allen, Keilin Rayner, Anthony Nash, and David Reader. We'll be getting in touch with the other remaining targets, too, but we have to pace ourselves!
Thanks for being a member and a loyal Football Friday patron. We hope you enjoy our coverage and always would love to hear more from you on the message boards.
[/private]
WE ARE DUKE.