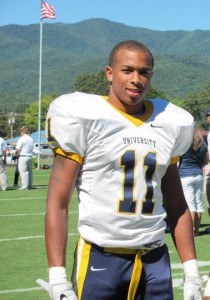 While Duke is working hard to improve their defense on the field this spring, the coaching staff is also working hard to upgrade the defense with a talented group of prospects in the class of 2012. The Duke staff has targeted a small group of defensive backs who already have received verbal scholarship offers from the Blue Devils, and a few have also taken a visit to Durham this spring. One of the most recent prospects to visit Durham and pick up a verbal scholarship offer is Dwayne Norman, a 6'0" 185 pound prospect from Jacksonville, Florida. The Blue Devils were the first to offer the speedy junior from University Christian, but other ACC and SEC programs have expressed interest. Highlights from his junior season can be viewed here.
BDN: Can you start off by describing your strengths for fans who haven't had a chance to see you play?
My strengths would be pursuing the ball, definitely that.  And I guess being a heavy hitter, when I get there – I hit angry, I guess.  That's what coaches call it.
BDN: What are some of the things you have been working on this offseason?
My coverage skills right now.  I'm coming up as a defensive back and I guess my speed and quickness.
BDN: What are some of your goals for yourself and your team in your senior season?
My goals for my team will be to win a state championship this year, definitely in the running to do that.  Also to stay on top of things my senior year, trying to do a repeat or even get better than what I did last year.
BDN: As you look at your college decision, what are the most important factors you are looking for in a school?
Me feeling at home once I go there, me feeling comfortable around the coaches and the players.  And really where the sports program is headed also in the next few years.  And academics plays a role also in what's going on when I go there.
BDN: You mentioned the importance of academics; do you have a specific field you are thinking of studying in college?
Yes, I want to study business management and maybe sports medicine.
BDN: Which schools have you been in contact with the longest, or have been hearing the most from?
Duke. I've been communicating with them the most.  I started talking with them I think September 1st – September 1st or September 2nd.  And I've been on visits up there twice.  And then South Carolina is the next school that's been recruiting me a lot.  And USF and Georgia Tech have just – they just started recently and that's coming along good.
BDN: You mentioned you were able to visit Duke a couple times. How have those visits gone and what other schools have you had a chance to visit so far?
Yeah, my visits at Duke went real good.  They opened my eyes to a lot of things about a future after football and all the – of course during football, but I liked both my visits up there.  And I visited South Carolina twice.  I went on their junior day and I went to a game.  I really like the program up there, I really like the football program and the coaches.
BDN: Do you have plans for any additional visits this spring or summer?
Yes, I just got back from a visit from Duke this past weekend.  I went to a spring practice, and I think in two weeks I'm going up to South Carolina to a spring practice to see what's going on there.
BDN: Do you have an idea for how or when you would like to narrow your list of schools down and ultimately make a decision?
Yes, I'm going to – I plan on committing on my birthday this year, September 23rd.  Yeah, that's – I think it's on a Friday this year.  I haven't decided but I think I want to do it like before a game or after a game, I don't know yet.  That's when I want to make my decision.
BDN: Is there anything else that you think is important for college football fans to know about you?
I'm a good kid off the field.  I won't get into any trouble or bring any bad name to the schools I'm at.  If anything, it will be good things.  I don't get in trouble a lot or too much.  Just say that.  And that's about it.
BDN: Thanks a lot, Dwayne, and best of luck to you.
Okay, well thank you for the interview.