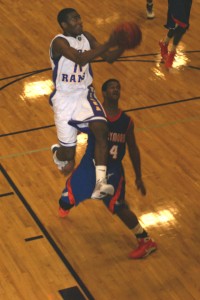 John Wall was just hours removed from a meeting with Duke Coach Mike Krzyzewski and, if you are a member, you know it went very well.  One would think the nation's top point guard prospect could soak that in for 24 hours before an interruption, but that was not the case on Monday evening when reports indicated Memphis Coach John Calipari was about to leave Memphis.
It could be just hours before Calipari signs a 35.5 million dollar contract that will make him the nation's highest paid college basketball coach.  A ripple effect is now in play with some of the nation's top recruits with Calipari being Kentucky bound.  Already, Memphis prospects are taking the necessary measures to get out of their verbal commitments.
But the player Duke fans are concerned about is John Wall, who had Memphis listed as his favorite.  Blue Devil Nation Premium caught up with Wall just before he watched former D-One teammate Ryan Kelly win the three-point shooting contest, and another Dukie, Mason Plumlee, threw down some sweet dunks in the McDonald's game.
There was a time when Wall dreamed of playing in the McDonald's All Star game, but a new rule change had a dire effect on schools with fifth year players.  It was America which lost out on its chance to see the point guard who goes east to west or north to south quicker than anybody in the country.  But while somewhat upset about it, John has focused in on the big picture.
"I'm kind of upset I'm not playing, but there's nothing I can do about it.  I'm just happy to have what I've got.  I'm happy for the guys that made it, but I'm not mad at anyone because I didn't make it.  It's tough that I have seen so many fifth year seniors play in the game, but they just made that new rule this year."
The news on John Calipari caught Wall off guard today, but he is now processing what is likely to soon happen, "I haven't 


Sorry, but you must become a premium subscriber to view the rest of this post.

Join now by visiting the PREMIUM MEMBERSHIP link at the top of the page, where you can learn more about the benefits of a Blue Devil Nation Premium membership.