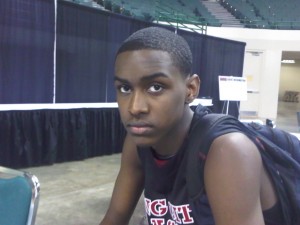 Quincy "Q" Miller is a versatile 6'8" forward with a 7' wingspan. The Chicago native moved to North Carolina to improve his life and he has succeeded. Miller enrolled in Quality Education Academy, a charter school in Winston-Salem, North Carolina and his recruitment has taken off. Through natural growth and an improvement in his skills, Miller went from being an under-the-radar prospect to a consensus top ten player in his class. After visiting the campus, he was recently given Duke's first offer of the 2011 class.
During the LeBron James Skills Academy, Quincy Miller sat down with Blue Devil Nation to talk about a multitude of topics, including reminiscing about the day he was offered by Duke a place in their 2011 class, what the transition was like from Chicago to Winston-Salem, and his rapid ascent in the eyes of coaches and evaluators.


Sorry, but you must become a premium subscriber to view the rest of this post.

Join now by visiting the PREMIUM MEMBERSHIP link at the top of the page, where you can learn more about the benefits of a Blue Devil Nation Premium membership.