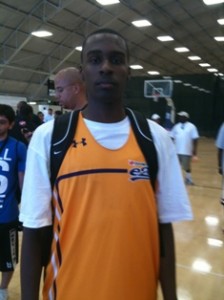 Shabazz Muhammad has quickly become one of the top prospects in the nation in the class of 2012.   Armed with a great shooting touch to go with his strong insid game, it's no wonder why he's drawing so much attention from every major college basketball program.  BDN caught up with the immensely talented junior to get his thoughts on the recent Elite 24 event and the recruiting process/
BDN: Can you tell us how your summer has gone so far?
SM: My summers been going really well, we played a lot of good teams in summer ball and I think I did a really great job, and now it's back to high school season.
BDN: This is your



Sorry, but you must become a premium subscriber to view the rest of this post.

Join now by visiting the PREMIUM MEMBERSHIP link at the top of the page, where you can learn more about the benefits of a Blue Devil Nation Premium membership.