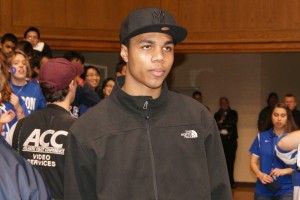 Welcome back for another edition of High School Hoops 2011. This edition provides scouting reports and player analysis on Austin Rivers, Quinn Cook and Alex Murphy followed by a bevy of links to game recaps, box scores, and articles from newspapers across the country on Michael Gbinije, Tony Parker, Marshall Plumlee, Rasheed Sulaimon and J.P. Tokoto. Moreover, it starts out with scouting reports/player analysis on Austin Rivers and Quinn Cook. Blue Devil Nation contributing author Terry Rains was in Florida watching Austin Rivers this past Friday night so I asked him, "Which portion of Rivers game most impressed you? Why?" He answered,


Sorry, but you must become a premium subscriber to view the rest of this post.

Join now by visiting the PREMIUM MEMBERSHIP link at the top of the page, where you can learn more about the benefits of a Blue Devil Nation Premium membership.