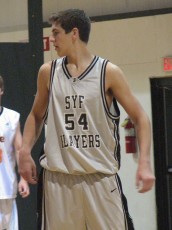 PITTSBURGH, Pa. – On the windy banks of Lake Michigan, Mitch McGary grew up in Chesterton, Indiana, a town known for its sandy dunes and being the birthplace of comedian Jim Gaffigan. He had a solid high school career at the local public school and enjoyed spending his summers on the beach and playing for SYF, a Gary, Indiana-based AAU program. Through his play on the court, he generated interest from programs in the Big Ten and Big East.
Last year, as his eighteenth year was approaching and college eligibility was looming, he and his family made the decision for Mitch, the youngest of five, to spend the next two years at Brewster Academy, a scenic New England prep school that kisses the shores of Lake Winnepesaukee with a burgeoning reputation as a basketball powerhouse. The decision to transfer schools was educational in nature, but with the added athletic benefit of competing with seven other Division I caliber players in the currently toughest high school basketball conference in the country, the NEPSAC. In his first semester, McGary, who has dealt with ADD,  earned a place atop the honor roll. On the court, by mid-December, he was known throughout the conference as a bruising energy guy for the nation's top-ranked prep school team and easily the league's best "sixth man."
Despite playing in a league where teams routinely feature multiple Division-I signees or recruits, Brewster Academy achieved a thirty-one game winning streak over the past two seasons, which was only snapped after a tough road loss to St. Thomas More, a team featuring six scholarship players, including the consensus top ranked junior, Andre Drummond. This was a game that Duke Assistant


Sorry, but you must become a premium subscriber to view the rest of this post.

Join now by visiting the PREMIUM MEMBERSHIP link at the top of the page, where you can learn more about the benefits of a Blue Devil Nation Premium membership.
This post is also available for individual purchase, but you need to login or register first.