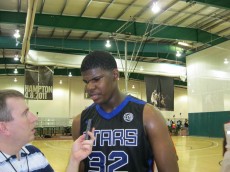 In a class that's being hailed for the depth and quality of its bigs, 6'9″ Tony Parker of Lithonia, Georgia is one of the top best. His game is based off of a mix of strength, skill, and soft hands. This past year, Parker led Miller Grove to a third consecutive Class AAAA state title, scoring 21 points and grabbing 22 rebounds in the championship game. Parker is noticeably more lean, silencing some who felt that his conditioning was his primary weakness. This past weekend, Tony averaged over 13 points and 8 rebounds per game at Nike's session two of EYBL in Dallas. Following a 20 point, 11 rebound performance in a come-from-behind overtime win against the New York Gauchos, Parker spoke with Blue Devil Nation.
Can you talk about this game?
It was a tough game. The Gauchos played hard. They scrap the hell of you. They got real good play out of their guards. They've got really good guards. They've got great coaching. Great coaching's gonna take you a long way.
He (Billy Singleton) coached at St. John's.
Yeah. So, they've got great coaching, good guards, and play really, really hard. They're a hard team to beat.
How do you feel you've played so far against AAU competition? We'll start with that.
I've got to play harder and work on my shot, but other than that, (In depth interview ahead …


Sorry, but you must become a premium subscriber to view the rest of this post.

Join now by visiting the PREMIUM MEMBERSHIP link at the top of the page, where you can learn more about the benefits of a Blue Devil Nation Premium membership.
This post is also available for individual purchase, but you need to login or register first.