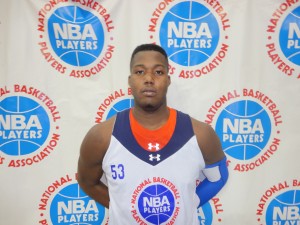 One of the most intriguing players at the recent NBA Top 100 Camp was Robert Carter.  Analysts do not have a lot of chances to catch his games in that he plays for the Atlanta Xpress, a newly founded AAU team which is an offspring of the Atlanta Celtics.  The 6-8 power forward prospect from Thomasville, Georgia told BDN that he liked to remain faithful to his team and that meant not playing in some of the major events, like the Nike EYBL circuit.  Carter said that both Nate James and Jeff Capel have been in recent contact and that they will take a look at him during the open July recruiting period.  Hear what the colorful Carter had to say in another lengthy BDN interview where we give fans the opportunity to familiarize themselves with one of the nations top prospects.
This is the first time I've been able to see you play this season and you look pretty good in the post out there.
Yeah, I like to bang a little bit but this camp … I thought was going to be able to come in here and work  … I mean, you know how many bigs there are in my class.  So, I came here ready to improve but you know how these camps are.  They haven't got that many plays to get the bigs the ball …
Yeah, it's a guard oriented thing …
The guards come down and do whatever they want, so …
This camp (NBAPA Top 100) is not that strong for point guards.
You see that's the thing.  We were winning because other teams didn't have good


Sorry, but you must become a premium subscriber to view the rest of this post.

Join now by visiting the PREMIUM MEMBERSHIP link at the top of the page, where you can learn more about the benefits of a Blue Devil Nation Premium membership.