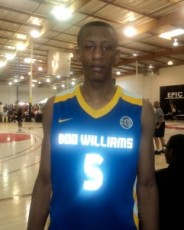 Prospect Troy Williams is a budding prospect coming up in the Boo Williams AAU system.  In fact, Boo Williams is his Uncle and is playing a huge role in offering him suggestions and guidance.  Williams is long and lanky and has a nose for the basket early on and his length allows him to hit passing lanes on the defensive end.  While still a somewhat streaky shooter, Williams has plenty of time to work on that part of his game. Almost all the rankings have Williams listed among the best in the class of 2013 and suitors are starting to call on a regular basis.  Williams speaks to BDN about a recent visit to the Triangle where he stopped in at UNC before heading to Duke.  He also gives us a list of schools chasing him the hardest in this BDN Premium interview.
How would you describe your game for those who've yet to see you play?
Explosive, high flying and you never know what's going to happen next.
The last time I checked in with you, you were pushing  6-7, is that still the case?
I'm closing in on 6-8 and still growing.
Tell me about how you progressed and became listed as one of the nations top players?



Sorry, but you must become a premium subscriber to view the rest of this post.

Join now by visiting the PREMIUM MEMBERSHIP link at the top of the page, where you can learn more about the benefits of a Blue Devil Nation Premium membership.
This post is also available for individual purchase, but you need to login or register first.