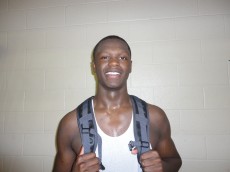 The state of Texas has long been known for football and rightfully so. However, there have been plenty of hoops stars coming out of the Lone Star State. One of the future bright stars of the state? Julius Randle, a 6'8 220lbs combo forward that is oozing with potential. The Texas product uses his strength to have his way with his competition and has found himself at the top of every coaches wish list. There is no shortage of coaches waiting for Randle's commitment. However, his commitment likely won't be announced for at least a year, so until then we can enjoy coaches scrapping and clawing their way to the top of his list. Randle, who says his number one spot to visit for Midnight Madness is Duke, played exceptionally well during his four day visit to Venice Beach for the Boost Mobile Elite 24. Often grabbing a rebound and going coast to coast for an emphatic jam, Julius displays plenty of skills at this stage but with loads of room to grow. Currently he sits right near the top of every scouting service one can name. BDN got a chance to speak with the skilled combo forward and hear his thoughts on a number of subjects.
BDN: Tell me a little about the experience of playing against the pro's last night.
JR: Oh it was fun. It's always fun competing with the guys who have been in the same position as you and now they are pro's. So you can take a lot away from that.
BDN: Was this the first time playing



Sorry, but you must become a premium subscriber to view the rest of this post.

Join now by visiting the PREMIUM MEMBERSHIP link at the top of the page, where you can learn more about the benefits of a Blue Devil Nation Premium membership.
This post is also available for individual purchase, but you need to login or register first.