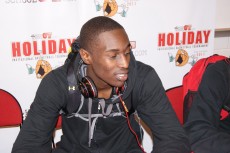 One of the more well known recruiting evaluators, Brick Oettinger took time to talk with BDN Premium about Duke prospects Theo Pinson and Jaquel Richmond.  Oettinger is the long time recruiting columnist for the ACC Sports Journal, formerly known as the Poop Sheet and he is the evaluator for Prep Stars as well.  If you are looking for meticulous notes, he's your man.  Pinson and Richmond, super sophs, combined for 34 points, 14 rebounds, 9 assists nd 8 steals leading their Wesleyan to a 69-54 win.  Here is the video with Brick, an exclusive for BDN Premium


Sorry, but you must become a premium subscriber to view the rest of this post.

Join now by visiting the PREMIUM MEMBERSHIP link at the top of the page, where you can learn more about the benefits of a Blue Devil Nation Premium membership.
This post is also available for individual purchase, but you need to login or register first.