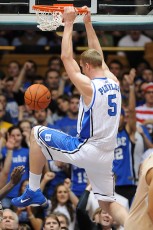 Blue Devil Nation Premium went one on one with Duke junior Mason Plumlee and we spoke of the big game with Virginia which tips pff at 9:05 on Thursday, his future plans and more in our latest offering to BDN members.  As the interview ends you can feel the fury of the team walking to the locker room after a hard practice in the backdrop.


Sorry, but you must become a premium subscriber to view the rest of this post.

Join now by visiting the PREMIUM MEMBERSHIP link at the top of the page, where you can learn more about the benefits of a Blue Devil Nation Premium membership.
This post is also available for individual purchase, but you need to login or register first.