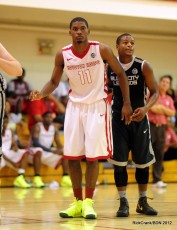 When watching the Houston Hoops AAU team play during the Nike Peach Jam this past week, it doesn't take one long to see why Duke extended an offer to Justise Winslow.  Riding the momentum he built while playing on the dominating Team USA U-17 team, Winslow continued his torrid play, combining a nice skill set along with athleticism and tenacity to form an excellent overall package. In speaking with Winslow off the court, I was just as impressed as I was with his game between the lines.   Check out the latest BDN Premium interview with this intriguing star.


Sorry, but you must become a premium subscriber to view the rest of this post.

Join now by visiting the PREMIUM MEMBERSHIP link at the top of the page, where you can learn more about the benefits of a Blue Devil Nation Premium membership.