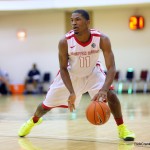 LOS ANGELES – Over the years Texas has mostly been known as a football state. High school football runs rampant in small and big towns all over the state. It's become a ritual for cities to flock to their local high school games on Friday nights and watch the stars of the future. However, there's been a change over recent years in Texas. What once was a football state has now brought out some of the top basketball talent in the country. One only needs to look at the team listings for the Nike EYBL and see that the state of Texas alone has four AAU teams in the league, more than any other state.
Next year Duke will sport two players from the state of Texas in sophomore Rasheed Sulaimon and incoming freshman Matt Jones. Duke will hope to continue the Texas pipeline by adding 2014 wing Justise Winslow. Winslow, who attends St. Johns School, a very strict academic institution, has been on Duke's radar for quite some time now. The 6'6 wing has a chiseled frame that would allow him to step onto a NCAA court right now. Recently he was awarded the Gatorade Boys Basketball Player of the Year for the state of Texas, an honor that was won by Oklahoma State point guard Marcus Smart last year.
Winslow, who hails from Houston, credits his excellent academics to his brothers, specifically his older brother, Joshua Winslow, who plays defensive back for Dartmouth. Being an excellent student, Winslow says that academics will be a factor in his decision. His brother Joshua is pushing him to


Sorry, but you must become a premium subscriber to view the rest of this post.

Join now by visiting the PREMIUM MEMBERSHIP link at the top of the page, where you can learn more about the benefits of a Blue Devil Nation Premium membership.