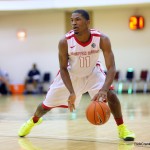 I made my annual trip to Hampton, Virginia today for the Nike EYBL Session II event where most of the nation's top players gathered to play in front of what seems like every major college coach in the country. As always, Blue Devil Nation focuses in on the players you want to hear about, and also gives you a heads-up on some new names popping up. That said, let's get right into Day One.
Tyus Jones was Priority One for Coach K
If you have been living under a rock you might not realize that Duke is all in on Apple Valley (MN) High's Tyus Jones, a 6-1 PG generally ranked as the second best overall prospect in the Class of 2014. Duke Coach Mike Krzyzewski watched Jones' entire game, but of course so did other coaches vying for his services, including Michigan State's Tom Izzo. Jones scored five points down the stretch, including knocking down a key three-pointer to give his team a 62-61 lead with 1:30 left in the game. He then iced it by drawing a foul on another three-point shot, though he took a nasty fall in the process.  Jones, like always, rose to the occasion and willed his team to a win and that is the mark of a winner.  That is what Tyus Jones is all about, for his team is not always as talented as its opponents, yet they find ways to win. Jones had 20 points, 8 assists and 6 rebounds the last time I checked but those numbers may be a little off.
Jones told Blue Devil Nation that at this time he is looking at a making a Fall decision, and he reiterated that he would likely be a package deal with 6'10″ center Jahlil Okafor, who balls for Chicago's Whitney Young High and plays for the Mac Irvin Fire on the AAU circuit. If it's going to be a package, that likely means it comes down to Duke, Michigan State and Kentucky, but the Blue Devils and Spartans have long been considered the leaders in most circles.  Check out this video


Sorry, but you must become a premium subscriber to view the rest of this post.

Join now by visiting the PREMIUM MEMBERSHIP link at the top of the page, where you can learn more about the benefits of a Blue Devil Nation Premium membership.