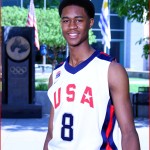 Duke is generally slow to get involved with some younger kids, but the talented Vincent King garnered their attention this pas weekend at the Nike EYBL Peach Jam in North Augusta, South Carolina.  King has not been back long from an overseas trip where he helped Team USA roll through the competition.   The LeBron James Shooting Stars U-16 team was one of the best this season and King was part of that.  His play in North Augusta was seen by many coaches who were also scouting some of his talented teammates and the calls are sure to roll in after the evaluation period for this talented young man.  Vincent King is a guy to keep an eye on moving forward.
It's the first time I have been able to see you play this weekend and I'm impressed. Where did you learn your basketball skills?
I learned from my Dad, he played overseas. He's Vincent King and I'm junior. (goes by V.K.)
How would you describe your game in your own words?
I'm very patient, I don't like to force a lot of stuff but to remain poised and get my teammates involved and play good defense.
You're a young guy but I am sure you are already hearing from a lot of schools.
My


Sorry, but you must become a premium subscriber to view the rest of this post.

Join now by visiting the PREMIUM MEMBERSHIP link at the top of the page, where you can learn more about the benefits of a Blue Devil Nation Premium membership.