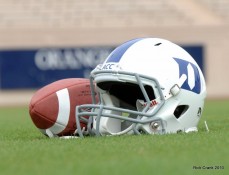 Friday means high school football and once again Blue Devil Nation, soon to be Devils Sports Beat, will be keeping fans informed on the game action of Duke verbal commits and recruiting targets. Several future Blue Devils were in action including quarterback Johnathan Lloyd, wide receiver Chris Taylor and offensive lineman Trip McNeill, as was recruiting target Darian Roseboro.
South Alamance HS defeated Williams HS 36-33 with a thrilling comeback that saw Johnathan Lloyd throw two 4th Quarter touchdown passes. BDN caught up with Lloyd and asked him about his team's performance as well as his individual performance in the season opener.


Sorry, but you must become a premium subscriber to view the rest of this post.

Join now by visiting the PREMIUM MEMBERSHIP link at the top of the page, where you can learn more about the benefits of a Blue Devil Nation Premium membership.