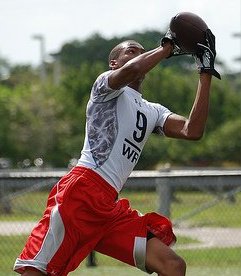 Welcome back to another edition of Friday Night Lights where we strive to keep our faithful readers informed on all the high school action for Duke recruits and recruiting targets. This week's article includes comments from Trevon Lee, Chris Taylor, Nico Pierre, Johnathan Lloyd and Trip McNeill.
Duke is ardently pursuing 4-Star wide receiver Trevon Lee from Cardinal Gibbons HS in Ft. Lauderdale, FL and his performance on Friday night is evidence why. Lee caught seven passes for 163 yards and a touchdown in a 37-15 victory over Everglades HS.
Blue Devil Nation asked Lee for a self assessment of his performance in the game and he stated,


Sorry, but you must become a premium subscriber to view the rest of this post.

Join now by visiting the PREMIUM MEMBERSHIP link at the top of the page, where you can learn more about the benefits of a Blue Devil Nation Premium membership.