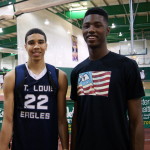 It's time to reflect back on the Nike EYBL Session 3 in Hampton with concern to Duke Basketball recruiting efforts. We have more interviews from the even on way, but before we get to those, here is what I took away after watching the event.
The first thing which comes to mind is that this is not the strongest class in memory and I am not talking the 17's but the U-16's as well. Nobody on the 16-U has been identified as a serious Duke prospect, save, three kids who are playing up or with the older kids.
One of those kids is Harry Giles, a 6-10, talented big man who just returned to action after a long lay off from an injury. His coaches used him in five-minute increments this past weekend and I have a somewhat mixed review. Firstly, it's obvious that it will take him a while to get back into playing shape and it is a mild concern that he's missed a year of on court development. He showed flashes of his old self with that one handed hook and his ability a use his length in the lane. Many around showed concern out loud, but I think Giles will be just fine. We chatted with Giles and we'll bring you what he had to say, but his comments were mainly on coming back from injury.
The other kid playing up is Jayson Tatum, a 6-8 wing for the St. Louis Eagles. He's long, lean, quick and can play multiple positions. Like Giles, he's a high character kid and humble considering his immense skills. But don't let his demeanor fool you, for he is quick to tell you his hope is to be a one and done player. Judging his skill set at 16, I can see that happening.
Many of you heard me mention a package deal last Friday. Well, there is legitimate hope that these two could land at Duke but make no mistake, there is work to be done. To get these two Duke-type kids, the Blue Devils will have to hold off their arch rival North Carolina and Kentucky. While others are listed, I think these three are clearly the teams to beat and those with a tangible shot at the duo. It's worth noting that the two sought each other out after games and hung out together.
When I questioned Giles in a follow-up about his relationship with Tatum, he pointed to having much in common, mainly values and family up bringing. The two are both from Christian faiths and both are mature, smart with their answers and alarmingly down to earth to have such talent.
Giles basically said he's taking it slow with his injury and he dealt with questions about it over and over in a relaxed way, telling me he knew this was part of it all. It took Tatum little time to re-tweet my various comments on him, so yes, they are media savvy, but seem genuine with their answers, not guarded and no one liners like a prospect I will get to in a bit.
Anyhow, you can certainly see why Duke is all in with these two and while there is again, work to be done, they seem to be in excellent shape. They always seem to hold Duke and Krzyzewski in high regard but my main question line was to get to know these kids a little better and not so much hard details of pushing a Duke agenda. Even when other asked questions, the Duke answers came out nice but one must never read too much into that. Also, the biggest change in prospects from my experience comes in between their junior and rising junior seasons.
You may have also heard the chatter on 2016's Edrice Adebayo, known as "Bam," to those around him. Standing 6-9 and weighing in at 230, he's a raw but gifted athlete who has a handler. That handler was questioned why he didn't accept a recent UNC offer in that the kid grew up a major fan and he said they just wanted to see what's out there. The vast majority of those I trust in the business think UNC is a lock but Duke had shown some interest. Who knows, maybe they want to see UNC go ahead and get theirs to clear the board. But whatever the reason, be it the staff feels they can get it or not, they've been in touch.
Let's jump to Henry Ellenson, a 2015 big man with a nice motor who plays with tenacity and hard at all times. I really liked his game and the kid can play and is a lock to be a good college player in my opinion. But no matter the media questioning him, he gives you bare minimum words. His Dad is a bit of a "hoot," and coaches Playground Elite as an assistant. I heard he would not let his son talk to media after losses. Anyhow, highly skilled and would love to see him at Duke, but my gut is it will be hard as heck to get him out of his immediate area. You've seen those prototypical Badger forwards/bigs before, right? Well, he is a clone of that or a typical Nordic looking multi skilled big.
I watched Ivan Rabb and spoke to him as well and of course watched a very skilled and talented Stephen Zimmerman as well. UNC media was all over these two, especially Zimmerman and the two actually mentioned a package deal. But don't be fooled. Word is they do not want to play at the same school and an even heavier word is that Big Zim ends up at UCLA, an Adidas school or UNLV. That likely goes for Rabb as well, but I think he could be a tad more open that the aforementioned,
The other 2016 kid playing up I mentioned above is Tyus Battle, a 6-5 wing. He moves well, but I got least views on him of all on my list. He is a sold prospect and we'll have out interview up with him soon.
That brings us to Caleb Swanigan. The more I chatted with him, the more impressed I was with his charter as well, but it's a tough story. He wants to be the first in his family to more or less succeed. He has tall brothers who balled but none followed through before set backs. He mentioned sisters as well and none of his sibling graduated from high school. He carries a 3.3 GPA but has reclassified and set off some hype in that the kid can play. I really like him and his guardian, but it's too early to get a feel here. Also, the Plumlees former coach will be involved, via the Indy Speice AAU organization. I do think Duke will turn the heat up here. Again, most of my initial concerns continued to fall away as I learned more about this mature and focused young man. One more thing, he said he did get and NBA Top 100 Camp invite and I will have a list of the Duke kids from Nike on the message board soon.
Lastly, I talked at length with Luke Kennard who gave Duke Assistant Coach Jon Scheyer for feeling the gaps left by departed coaches. He spoke of what they had in common and for the record Duke has told him he could see a little PG so he's working on his handle. I will have an interview coming with him, but he did mention to me that he thought it was just a matter of time with Chase Jeter which is what I have been telling you. He also said they talked and that he spent some time chatting with Rasheed Sulaimon as well. As for Jeter, I continue to hear from sources close to the situation that Adidas did not want him to verbal too early for exposure to his team and their circuit. One last note, he said he was trying to talk Jeter into joining a Nike team.
This is an unusual year in that Duke has a lot of prospects in other places. They still like Diamond Stone, but so does everybody else and he plays where nobody ever sees him. And then there is the Adidas circuit. Anyhow, that's a brief update and I will get to the other interviews soon.