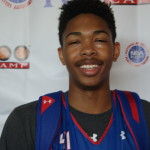 Blue Devil Nation checks in with prospect Brandon Ingram to get his latest thoughts from the recruiting trail.
How do you feel like you've played this weekend?
I think I played pretty well after a slow start. We got down big an competed and came back.
You said you got in really late last evening.  Did that effect your play?
Maybe, but I would not use that as an excuse. I'm playing better ow but I played terrible the first day.
On his game and how he sees it ...
Just your aggressive player and teammate and I try to get my shot going and get after it. Once my shot is going I can see that open the lane and that helps other parts of my game.
Have you bonded or do you hang out with any players on the AAU circuit?
I haven't really bonded with that many here yet, but I have at various camps, like Carlton Bragg. I have seen him in Europe to Vegas and out here. I've talked to Dennis Smith a lot.
What is the one thing you like about Duke the most?
The way they exploit their players, The coach knows everything about you and exposes your talent and puts you in the right position to succeed.
UNC is recruiting you as well.  Can you tell us what you are most impressed about from them?
The Tar Heels make you family. Coach Roy is a great guy.
You play on the same circuit as Chase Jeter.  Have you two guys ever talked of playing together?
I've watched him a lot actually. I have watched him as a big man. I don't know if we'll ended up playing together, we haven't really talked about it, but we talk a little about camps coming up, like Adidas Nations.
In state schools are all over you.  Can you tell me when each came into the picture?
Well, at first it was N.C. State, then it was Wake Forest and North Carolina and Duke.
What was it like when Duke came in?
I had heard they were looking at me a lot. It's funny because I don't think Coach K had been to a lot of my games, yet he knows everything about me. He told me a lot about myself that I didn't even know and he's watched a lot of film on me.
What else did he have to share?
Just that he knew how versatile I was and spoke to my strengths and weaknesses.
And you grew up a Duke fan ...
Yes, I have been. I liked the way they played in transition. I just grew up watching them and use to play with Duke on the NCAA video games.
What was said before their offer?
People say academics at Duke is very hard. Coach started out telling me how good a player I was and how I'd be used and then came the offer.
Speaking of lineage, Duke Assistant Jeff Capel has that being in the Fayetteville area. Has he talked to you about any of that?
Yeah he has. He said he was leaning towards another school but Coach K came in and he fell in love with him and since that day he knew he wanted to come to Duke and it's been a great experience since.
I saw that the Cameron Crazies tried to get you to come sit with them this past season. You kind of played the ignore card are were cool about it. Do you think you might go over next time?
I might go over next time. It's kind of crazy over there and it was very hot.
The Duke vs UNC game ... that was a wild one.
Yes, that was a wild one and they just go crazy and it was a competitive game where they stand the while time. I mean, it's very different from watching on TV
He was scheduled to visit NCSU unofficially this past week but canceled for the NBA Camp.  We have another partial interview and or will add more to this one shortly.  Despite all the chatter out there, he still seems like a Duke lean to me.