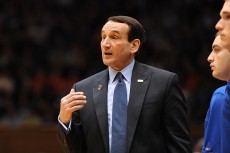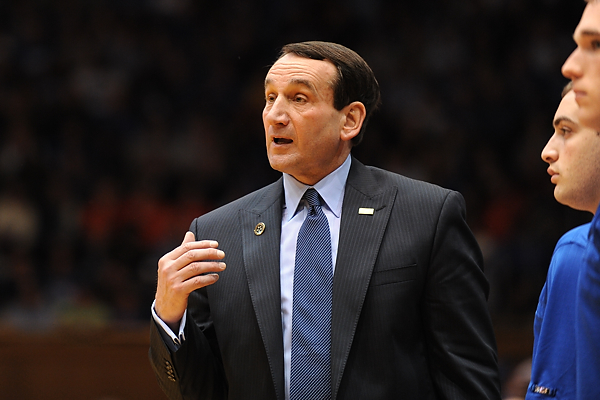 To the surprise of many, the Blue Devils have started this season undefeated through nine games, including wins over at-the-time top 5 teams in Kentucky, Louisville and Ohio State, plus solid Minnesota, VCU, and Temple squads.  Let's be honest: the next three, against Cornell, Elon, and Santa Clara, all at home, are going to be wins.  They're going to get to 12-0.  Even after that, January starts with Davidson in Charlotte and then Wake and Clemson at home.  Though those are not gimmes on the order of Elon, nevertheless Duke stands a pretty good chance to go into Raleigh on January 12 at 15-0.  Nine right now, 12 almost for sure, and a pretty good chance to get to 15.
Beginning the season with a substantial winning streak is nothing new for Duke under Mike Krzyzewski, but I thought it might be interesting to take a look at those hot starts and see what they entailed compared to this year's start, and how those seasons ended up.  Incredibly, prior to this year, Duke has gotten off to starts of 9-0 or better fourteen different times under Coach K.  14!  That in itself is simply amazing.  By way of comparison, in the same period (starting in the 1984-85 season, which was K's first team to start at least 9-0) Kansas has started off 9-0 or better eight times; North Carolina has done it only five times.  Kentucky has only done it three times.  Indiana three times, including this year.  UCLA, three times.  And nobody has ever accused Duke of creating creampuff early season schedules in order to pad its record.  Usually, just the opposite actually.
The best start Duke has ever gotten off to is 17-0, and they've done it twice.  Not surprisingly, the powerhouse 1991-92 team was one of them.  That team started out the season ranked #1 and beat 5 ranked teams in those 17 season-opening wins before losing by a bucket at #19 Carolina. The Blue Devils would only lose once more that season en route to a second consecutive national championship, rolling Michigan in the finals by 20.
But the other 17-0 team was the 2006 team, led by J.J. Redick and Shelden Williams.  That team also started out ranked #1 and they beat six ranked teams in those first 17, including the memorable shellacking of #2 Texas in Madison Square Garden, featuring one of the greatest shooting exhibitions I have ever seen, by J.J.  The streak was broken by an unranked Georgetown team, in D.C.  That Duke team won the ACC Tournament, but hit a wall against LSU, shooting 27% in a bitter Sweet 16 loss.
One thing that I noticed in looking at all these seasons was that in the years up to and including 2000-01, whenever Duke started off at least 9-0, they almost always had major success in the NCAA Tournament.  There were eight such seasons, which I'll detail below, and in five of them they at least reached the Final Four.  However, starting in 2001-02 with the team that began 12-0, the six teams that began at least 9-0 (prior to this year's squad, of course) have not advanced beyond the Sweet 16, though all but one won the ACC Championship.  Kind of strange that in the (roughly) first half of Coach K's Duke career, undefeated starts of at least nine games usually led to a Final Four, while in the second half of his career, they never have -- despite almost always being good enough to win the ACC.
So here's a rundown of Duke's hot starts over the years:
1985: The Blue Devils, a rising power under the young coach with the unpronounceable name, won their first 12 games, although none were against ranked opponents.  The streak was broken at unranked Maryland, and the Devils then lost again, to Wake.  After thumping #6 UNC on the road, Duke then lost its third of four, this time to State at Reynolds.  The team lost in the ACC semi's and in the second round of the NCAA's.
1986: K's first great team, led by the Dawkins-Alarie senior class, started off 16-0, including beating three ranked opponents.  The highest rated was Kansas in the old Big Apple NIT, which was really a big "statement" game for the program.  The '86 team, ranked #3, was finally beaten in mid-January by #1 UNC at their place, and then lost again at #4 Georgia Tech -- two in a row, just like the previous season when the streak was stopped.  This outfit, though, was a machine. They would not lose again in the regular season, stormed through the ACC Tournament, and made it all the way to the NCAA Finals before losing the heartbreaker to Never Nervous Pervis and Louisville, 72-69.
Three years later the Danny Ferry-led '89 team started out 13-0, but the #1 ranked Blue Devils did not beat any ranked teams among the 13.  And this time, once they lost -- at home to #13 Carolina by 20 points -- they then lost their next two as well, at unranked Wake and at #15 State, so it was a three game losing streak all of a sudden.  After winning one, the Devils dropped their fourth in the last five, this time at unranked Georgia Tech.  The team lost in the ACC Finals and had an excellent run in the NCAA's, getting to the Final Four before the bizarre loss to Seton Hall.  Longtime fans will recall that Duke led that game 26-8, only to see Seton Hall stage your basic, everyday 37 point turnaround to lead the game at one point in the second half by 19, ultimately winning by 17 despite a brilliant 34 point performance by Ferry.
Then came the '92 championship team, discussed above.
Duke got off to hot starts the next two seasons as well.  In 1992-93, the Blue Devils won their first 10 games, two against ranked teams, included top-ranked Michigan.  The team was first beaten by #10 Georgia Tech in Atlanta, and actually went on a tailspin where they lost three of six games.  That team did not have great post-seasons success either, losing in the first round of the ACC Tournament (to Georgia Tech again) and then came the upset second round loss in the NCAA's to Jason Kidd-led Cal.
The next year, Grant Hill's senior year, the Devils started off 9-0, beating two ranked teams in the process, before being stunned by an unranked Wake Forest team, at home no less.  Duke lost in the ACC semi's that year before Hill absolutely carried that team all the way to the final game of the NCAA Tournament, only to get hurt in that game -- which Duke would've won anyway had Arkansas swingman Scottie Thurman not thrown in a 3-point heave with one second on the shot clock in the last minute of the ballgame.
The next undefeated start of at least nine games did not occur until 1997-98, when Duke featured Trajan Langdon as well as star freshmen Elton Brand and Shane Battier.  Horror of horrors, a four year gap!  Of the nine season-opening wins, only one was against a ranked team, but that team was top-ranked Arizona, in Hawaii.  Duke's first loss that year was at unranked Michigan, by which time the Devils had ascended to the #1 spot in the polls.  They were #1 at the end of the regular season too, but the star-studded Blue Devils lost in the ACC Finals and then blew a 17 point lead to lose to Kentucky in the Elite Eight in St. Petersburg.  That one smarted.
Three years later the Blue Devils, featuring five future pro ballplayers in the starting lineup, ran out to a 10-0 record, beating two ranked teams, before #3 Stanford beat them by a point in Oakland.  Duke's team was a powerhouse, though, led by Jason Williams and Shane Battier, winning the ACC Tournament and then the whole thing by beating a very good Arizona team in Minneapolis for the title.
But that was the end of Duke's hot starts leading to Final Four runs.
The following year, 2001-02, Duke won its first 12 games, two of them over ranked teams.  The top-ranked Devils lost in Tallahassee to an unranked FSU team, then won their next 11.  Another repeat national championship seemed possible, but after winning the ACC Tournament, Duke lost a 17 point lead and was upset in the Sweet 16 by Indiana in Jason Williams' final college game.
With a lot of new players being integrated into the team, in what was seen as --for Duke -- a rebuilding year, the result was pretty much the same deal the following year, as Duke won its first 12 and was ranked #1 before losing at #17 Maryland.  Another ACC Championship was followed by a Sweet 16 loss, this time to Kansas in Anaheim, which to me was one of the least bitter tournament defeats Duke has experienced, due to the youth of the team and it having exceeded expectations to that point.
In 2004-05, that JJ/Shelden/Daniel Ewing team ran out to a 15-0 record, beating only one ranked team, before losing to unranked Maryland at home.  Same result in postseason: Yet another ACC Championship -- nothing to sneeze at, mind you -- before Michigan State got them in the Sweet 16.
Then came the 17-0 start in 2006, discussed earlier.
The roster in 2007-08 was young and did not seem all that strong, for Duke, but the team started out 10-0 anyway, including beating two ranked teams, then lost to #11 Pitt at Madison Square Garden before reeling off another 12 in a row.  This team did not win any championships, though, losing in the ACC semi's and then being outclassed in the NCAA second round by West Virginia.
Finally, the 2010-11 team, ranked #1 in the pre-season, won its first 15 games before losing at unranked FSU.  This was the Kyrie team, which amazingly survived the loss of that transcendent player to again be perhaps the best team in the country.  Duke won the ACC's yet again, but really struggled to re-integrate Kyrie in the NCAA Tournament, and got blitzed by an Arizona team playing out of its collective head, again in Anaheim.
So what does all this mean for this year's team?  Probably nothing.  But based on the totality of all this experience with long winning streaks to start the season, the likelihood is actually that the team that first knocks off the Blue Devils will probably be an unranked ACC team playing at home.  Of the fourteen seasons that Duke has started off at least 9-0 under Coach K, in ten of them, the first loss has come on the road.  That's not surprising.  What is surprising is that seven of the 14 "first losses" have come to unranked teams.  Three have come to top 10 teams and four to teams ranked #11-25.  And ten of the 14 "first losses" have come to conference foes.