[private]Northwestern invades Wallace Wade Stadium to face the Blue Devils in a matchup between two 1-0 teams. The Wildcats seek to avenge at narrow loss which gave Duke it's only victory last season. Duke hopes to go to 2-0 for the first time since 1998.
Northwestern features a balanced offensive attack spearheaded by quarterback C.J. Batcher and tailback Tyrell Sutton. The Wildcats played without the services of Sutton last season in the teams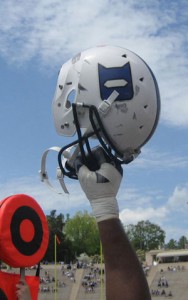 matchup. They also gain their top defensive lineman back after a one game suspension. For those who expect to see the same team with 17 starters back, keep in mind that Northwestern brought in four new coaches including a new DC.
So, in a sense, this will be two teams that despite returning their core starters, will likely see a new wrinkle or two on both sidelines. That said, which team will be the most prepared? New Coach David Cutcliffe had all summer to prepare for James Madison and he obviously did a masterful job. He's had much less time to prepare for the Wildcats who come in a 6.5 favorite despite being on the road.
Cutcliffe knows that Northwestern runs a spread offense and a similar defensive scheme that his Devils run. Duke will try to keep a potent offense out of the end zone and hope to control the ball to keep the defense fresh. Look for Duke to try and get into the secondary depth of the Cats where four freshman are backups.
Weather could play a factor if it rains or there is a wet field. This would seem to favor Northwestern in that it would slow down the Devils speed. If the Dukies can find a way to win, Cutcliffe and crew will be the talk of the town and the resurgence will be in full swing.
Cutcliffe and his team have encouraged students and fans to turn out in force again and they need the support. So, don't mind the possible rain. That's what they make ponchos and umbrellas for. This will be another entertaining game and I'd like to see you in Wallace Wade so you can tell everybody on Sunday you saw Duke win it's second game of the season. Be loud, be proud and cheer hard and wear your Duke Blue![/private]