[private]The Duke Blue Devils will entertain the North Carolina State Wolfpack in football for the first time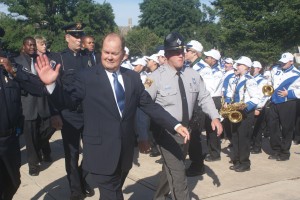 since 2003 this weekend in Wallace Wade Stadium.  It's a shame it took this long for these two rivals to hook up again, but that's the way it is since the new ACC alignment.
There is no reason for this game to be anything other than a sell out.  N.C. State is sure to bring many a red clad fan in for the 3:30 kickoff and Duke fans need to realize just how long it's been since their team was 4-4 this time of the season.
Coach Cutcliffe worked hard all summer long to get fans excited and involved and it seems to be working.  I listened to a heart breaking defeat to Wake Forest at a local Durham establishment, Devines, located on Main Street last Saturday.
In the past, it was not unusual for Duke fans to turn out, but they were for the most part old school.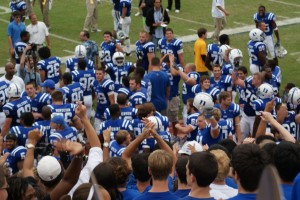 On this day, a large group of students joined the old guard in the courtyard and we all sat around together in unison rooting for Cut's kids.
The great thing is that generation gaps were bridged and conversations were those you might expect from friends or fans you've known for a long time.  In short, there was a new level of interest compared to the years of Franks and Roof. 
The crowd prompted long time Herald Sun sportswriter and my pal Frank Dascenzo to say, "Can you believe this?"  When asked what, he continued, "Look at all the people in here, they are into Duke Football."  He went on to say he'd never seen it like that before and coming from someone who cut his teeth on ACC football that's saying a lot.
All season long, Duke fans have come together and that's a testament to Cut's dedication to turn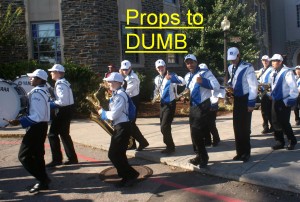 this long dormant program around.  Shortly after the opening victory over James Madison, I ventured to Cookout for a quick bite after the game,  The simple fact that I was wearing Duke colors prompted two band members (pictured with thumbs up) to strike up a conversation in the line about Duke Football.
People who know that I run a Duke related web site come up and say things like, "Wow, Duke is for real" or "Cutcliffe really knows what he is doing,"   The best might have been, "Man, I can't believe it!  Duke really has a football team." The thing is that most of these comments came from fans of another school, the same ones who were making fun of the program at the start of the season thinking it was the same old Duke.
No matter where I go or what I do, it seems the repercussions of a few wins are prevalent in the community.  The mere fact that I could give ten to fifteen more examples as those above says a lot, but the ultimate statement would be to show our support to Cut's kids by making the fire marshall come to Wade for tomorrows game.
This team has put in a lot of hard work as has the staff.  There is no reason why any fan within four hours wouldn't want to venture to Wally World to immerse themselves in a great college football atmosphere.
There is nothing like the contrasting colors or red and royal blue when Duke and N.C. State get together.  Add to that Autumn backdrop on a slightly crisp November afternoon and well, it doesn't get much better than this.
We have two more chances to see the 2008-09 Duke Blue Devils football team and super senior leaders like Michael Tauliliili.  That said, join me this weekend, cheer hard and wear your Duke Blue proudly for it is the "Dawn of a New Day."[/private]