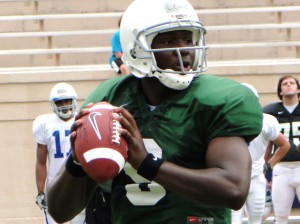 DURHAM, N.C. -- Duke senior Thaddeus Lewis has been named one of five finalists for the Johnny Unitas Golden Arm Award, an honor presented annually to the top senior quarterback in the nation by the Johnny Unitas Golden Arm Educational Foundation, Inc., and Transamerica, a leading provider of innovative business and personal financial services.
Lewis is joined on the list of finalists by Dan LeFevour (Central Michigan), Colt McCoy (Texas), Zac Robinson (Oklahoma State) and Tim Tebow (Florida).
A 6-1, 185-pound native of Opa-Locka, Fla., Lewis has played in 45 career games at Duke with 44 starting assignments.  He holds school career records for total offensive yards (9,300), pass completions (829), pass attempts (1,425), touchdown passes (63), touchdown responsibility (71), touchdown-to-interception ratio (1.66-to-1) and total offensive plays (1,772).  Just one of three players in ACC history to throw for 2,000 or more yards in four seasons, Lewis ranks second in league history in career pass attempts, third in completions, fifth in passing touchdowns, sixth in passing yards and ninth in total offense.
Lewis has guided the Blue Devils to five wins in 2009 by competing 226-of-364 pass attempts for 2,640 yards and 16 touchdowns while rushing for an additional three scores.  In Duke's 49-28 win at N.C. State on October 10, he completed a school single-game record 40 passes in 50 attempts for a career-high 459 yards and five touchdowns and was named the National Player of the Week by the Walter Camp Foundation for his efforts.
The 2009 winner will be presented with the Golden Arm Award on Friday, December 11 at the Tremont Grand Meeting & Banquet Facility in Downtown Baltimore. Joining the evening's festivities will be a number of former Baltimore Colts teammates of Johnny Unitas, along with NFL Hall of Fame quarterback Bart Starr.
Last year's winner of the Golden Arm Award was Texas Tech quarterback Graham Harrell. Other past winners include Matt Ryan (Boston College), who is now with the Atlanta Falcons; Brady Quinn (Notre Dame, 2006), now with the Cleveland Browns; the Arizona Cardinals' Matt Leinart (USC, 2005), Eli Manning (Ole Miss, 2003) of the New York Giants; the Cincinnati Bengals' Carson Palmer (USC, 2002); and the Indianapolis Colts' Peyton Manning (Tennessee, 1997).
"When you consider how many great college QBs have won the Golden Arm Award and have gone on to play in the NFL, it is clear that this award has become a significant barometer for future success in the professional ranks," says John C. Unitas, Jr., President of the Johnny Unitas Golden Arm Educational Foundation.
The namesake of the Golden Arm Award has a storied history which has earned him the recognition of being the greatest quarterback to ever play in the National Football League. An 18-year veteran of the NFL, Unitas played his collegiate career at the University of Louisville (1951-1954), passing for 3007 yards and 27 touchdowns.
Unitas began his pro career with the Baltimore Colts in 1958 and played there 17 years until joining the San Diego Chargers for his final season. His career passing figures include completing 2,830 of 5,186 passes for 40,239 yards and 290 touchdowns. Among his many records is one that may stand forever, throwing a touchdown pass in 47 consecutive games.
Unitas was selected as the top quarterback of all-time by the Pro Football Hall of Fame 36-member selection committee. In commemorating the NFL's 25th, 50th and 75th anniversaries, he was honored as the GREATEST QUARTERBACK OF ALL TIME. Unitas was inducted into the Professional Football Hall of Fame in 1979.
Proceeds from the Johnny Unitas Golden Arm Awards help to support the Johnny Unitas Golden Arm Educational Foundation. The Foundation provides financial assistance to underprivileged and deserving young scholar-athletes throughout Maryland and Kentucky.