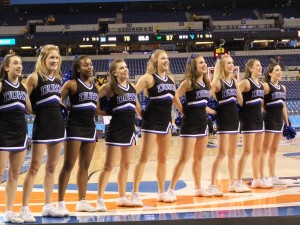 The NBA conference finals feature three former Blue Devils in former teammates JJ Redick and Shelden Williams and the ageless Grant Hill.  Redick had a nice game off the bench by scoring nine points but his team couldn't rally and go down 1-0 to the Boston Celtics.  Shelden Williams didn't get off the bench for the Celts.  The amazing 37 year old Grant Hill will try and help lead the Phoenix Suns past the Los Angeles Lakers and Kobe Bryant in game one of their series which starts tonight.  It's good to see Grant still playing with savvy after dealing with numerous injuries early in his career.
While it is not yet official, it seems as if  ESPN will obtain the rights to ACC basketball and football games.  Sources are saying that Fox Sports drove the price up by narrowly missing it's goal.  In fact, if the deal is finalized as expected, the ACC's revenue more than doubled. There will be efforts to provide broadband telecasts meaning that there could be a way to see every game your team plays.  Raycom held the rights to the ACC for more than a decade and they will now have to purchase the games from ESPN to continue their telecasts.  While the aforementioned is expected, it remains to be seen where this leaves FSN.  As the deal finalizes and all the facts come out it's hard to see the long term effect but one thing is for sure, the ACC came out as winners here.
I was talking with a long time scalper at a local establishment this past weekend and after that conversation it would be wise to get Duke-Alabama football tickets sooner rather than later if you want to attend.  The game will be sold out.  How often does the defending national champion with the Heisman trophy winner in tow visit Wallace Wade Stadium?  And Alabama fans?  They'll come in like a tide.
There are three more dates left to catch the Duke Athletics tour featuring David Cutcliffe.  For those of you  who can make it, here are the remaining dates -
WASHINGTON, DC
May 20
6:00-7:30 pm
Blackfinn American Saloon
1620 I Street NW
Washington, DC 20006
CONTACT: Samantha Kozub (919-613-7554)
WINSTON-SALEM, NC
May 25
5:30-7:00 pm
ISP Headquarters
540 North Trade Street
Winston-Salem, NC 27101
CONTACT: Whitney Dunlap (919-613-7557)
DURHAM, NC
May 26
5:30-7:00 pm
Tobacco Road Sports Café
Diamond View II
280 South Magnum Street
Durham, NC 27701
CONTACT: Samantha Kozub (919-613-7554)