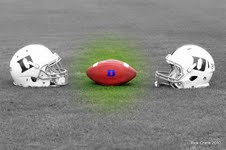 Are you ready for some Duke football? BDN wraps up kickoff week with a preview of Duke's week 1 matchup with the Elon Phoenix.  
Duke in 2009
The Blue Devils finished 4th in the ACC Coastal Division in 2009 with a record of 5-7, including wins against Army, North Carolina Central, Virginia, Maryland, and North Carolina State. Led by senior QB Thaddeus Lewis, the offense carried the Blue Devils with a prolific passing attack. Duke's top three receivers formed one of the most formidable receiving corps in the nation in 2009, as All-ACC first team performer Donovan Varner, Freshman All-American Conner Vernon, and junior Austin Kelly all caught over 50 passes. Duke struggled to run the ball, finishing last in the ACC and the nation in rushing with only 63.5 yards per game. The defense was led by seniors DT Vince Oghobaase (All-ACC honorable mention), DE Ayanga Okpokoworuk, LB Vinnie Rey (2nd team All-ACC), and CB Leon Wright (All-ACC honorable mention). Despite falling short of a bowl berth, the five wins marked the most for the program since 1994. 
Elon in 2009
Elon is coming off the program's first ever FCS playoff invitation in 2009, in what was head coach Pete Lembo's fourth year with the program. The Phoenix finished 2009 ranked in the FCS top 10, losing in the first round of the FCS playoffs to Richmond, 16-13. The Phoenix dominated opposing offenses, finishing fourth in the country in total defense, allowing just 248.33 yards per game. Elon also finished in the top 10 in scoring defense, pass defense, and sacks. The offense was equally impressive, led by senior WR Terrell Hudgins, who was runner-up for the Walter Payton Award in his outstanding senior campaign, in which he recorded 123 receptions and 1633 yards, becoming the all-time FCS leader in receiving yards. Scott Riddle led the offense in his third years as starting quarterback, eclipsing the 10,000 yard mark for his career. The Elon ground game was paced by sophomore Jamal Shuman, who led the team with 677 rushing yards, and junior Brandon Newsome, who rushed for 7 touchdowns in 2009.
Analysis
First week matchups are always difficult to predict, as teams adjust to new personnel, coaching, and opponents. Every team has question marks heading into week one, and Duke and Elon are no exception. The Blue Devils must replace a record-setting quarterback and five starters on defense. They must develop a consistent rushing attack and utilize their speed on defense to pressure opposing offenses. QB Sean Renfree appears poised to take over under center and should have the benefit of a veteran offensive line and receiving corps. Five players will play at running back for Duke in 2010, led by sophomore Desmond Scott, who showed flashes of his potential as a freshman in 2009. On defense, Duke will attempt to utilize depth at linebacker and different schemes to disrupt opposing offenses. A deeper and more experienced secondary should have better playmakers than a year ago. After a disappointing loss to Richmond in last season's opener, Duke should be better prepared in 2010. 
The Phoenix have questions of their own heading into their season, though expectations are still high. Elon was selected 2nd in the Southern Conference and 7th in the FCS in preseason polls. Preseason Southern Conference Player of the Year Scott Riddle has already cemented his name in the record books in just 3 years at Elon, but loses his top receiver from 2009 in Terrell Hudgins. Seniors Lance Camp and Sean Jeffcoat will have to fill the void, but may struggle to get open against Duke's speedy secondary. The Phoenix have the biggest concerns on defense, where they must replace starters on the defensive line and the secondary. The linebackers will be called upon to lead the defense, starting with junior Joshua Jones and senior Brandon Wiggins. Elon was one of the top defensive teams in the country last season and are well-coached, but with significant losses, their 2009 dominance may be hard to repeat.  
BDN Prediction
Pete Lembo has built the Phoenix into a top program within the FCS, but Duke is now a competitive FBS program and has aspirations of competing for future ACC and BCS championships. Elon was overmatched against their lone FBS opponent in 2009 in Wake Forest, losing 35-7 in Winston-Salem. The Blue Devils have better athletes than Elon at nearly every position, and have finally built up quality depth at key positions. With Duke's youth, consistency has been a concern throughout practice and will continue to be important throughout the season. Riddle, a savvy veteran quarterback, will take advantage of the Blue Devils' defensive aggressiveness and inconsistencies, but Sean Renfree and the Duke receivers should have no problems with the inexperienced Phoenix secondary. The Blue Devils will attempt to control the game on the ground, sharing carries among multiple running backs, while opening the game up through the air. 
Each week in 2010, BDN will provide our consensus pick from football contributors Mark Watson, Bob Green, and Patrick Cacchio. The consensus BDN pick here is: 
Duke - 31
Elon - 14