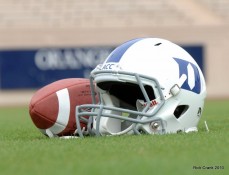 With 4 minutes and 38 seconds left in the second quarter, Duke failed inside the red zone for the first time this season when on third and eight from the Maryland 17 yard line Sean Renfree threw an interception. The mistake ultimately proved fatal.
If Renfree's pass had been incomplete instead of picked off, Will Snyderwine would have had an opportunity to kick a fourth first half field goal and expand Duke's lead to 12-0. Instead the Terps drove 80 yards in eight plays to cut the lead to 9-7 at the half grabbing momentum in the process.
Discussing the interception, Renfree stated, "I just tried to force it in there and tried to hurry myself too much."
The red zone miscue coupled with two big second half plays by Maryland resulted in a 21-16 loss for Duke in a game the Blue Devils should have won. Duke racked up 399 total yards to Maryland's 294. Duke's defense, which had been allowing 229 yards rushing per game, held Maryland to 124 yards on the ground. Coach Cutcliffe attributed the improved defensive play to quality practice, "When you are hungry and you work that way, you are going to get better. We are going to continue to improve as a team."
Safety Walt Canty echoed Coach Cutcliffe's comments by stating, "We had a great week of practice, and when you have a great week of practice, that is how you improve."
Duke's receivers played a solid game with Donovan Varner leading the way with eight catches for 128 yards. Conner Vernon added six catches for 99 yards; Austin Kelly contributed six catches for 60 yards, Josh Trezvant caught one pass for 25 yards, while true freshman Brandon Braxton caught two balls for 23 yards. Tight-end Brandon King scored Duke's touchdown on a two yard reception from Sean Renfree at the 7 minute and 20 second mark of the fourth quarter.
The ground game, which had rushed for over 100 yards in each of Duke's first four games, was limited to 48 yards. Josh Snead led the Blue Devils with 32 yards on four carries. Establishing a running game will be important when the Miami Hurricanes visit Duke in two weeks as the 'Canes possess the number one rated pass defense in the ACC giving up only 136 yards per game through the air. Miami has recorded 17 quarterback sacks in their first four games.
On the defensive side of the ball, Abraham Kromah had nine solo tackles and six assists for a total of 15 tackles. Kromah is fourth in the ACC averaging 9.2 tackles per game. Kelby Brown and Walt Canty chipped in six tackles each. Duke had four tackles for loss but did not record a quarterback sack for the second straight game. Duke is last in the ACC in sacks with four in five games.
Here is how Duke stands in the ACC and NCAA in the 10 statistical categories we've been tracking all season:
1. Turnover margin: moved this category to the top as it is the most relevant statistic to understanding the Blue Devils 1-4 record. Duke now has a minus six (-6) in turnover margin, which is last in the ACC and tied for number 112 in the nation. The offense must stop turning the ball over and the defense must start forcing some turnovers if the Blue Devils desire to start winning ball games.
2. Red zone offense: there is no reason to panic after one red zone turnover as Duke has scored on 17-18 (94.4%) possessions this season. However, after the miscue and having to settle for field goals on three previous first half red zone opportunities, this statistic bears watching. The Blue Devils need to score touchdowns in the red zone. Duke remains number one in the ACC in this category and is tied for number eight in the nation.
3. Total offense: offensive yardage dropped from 425.8 yards to 420.4 yards per game but the Blue Devils moved up from number four to number three in the ACC. Duke is now number 39 in the nation. The Duke offense racked up 351 yards passing against Maryland.
4. Time of possession: Duke continues to fall in this category as their time of possession is now down to 29 minutes and 14 seconds per game. The Blue Devils are number eight in the ACC and number 77 in the nation.
5. Third down conversions: Duke was 4-16 on third down against Maryland, which lowered their success rate to 38.9% resulting in Duke falling to number eight in the ACC and number 71 in the nation. The Blue Devils have been successful on 28 of 72 third downs.
6. First downs: Duke remains number three in the ACC and number 37 in the nation with 108 first downs. The Blue Devils have rushed for 32, passed for 70, and been awarded six via penalties.
7. Total defense: remained number 11 in the ACC but improved to number 100 in the nation as they decreased total yards allowed to 431.8 from 466.2 yards of offense per game.
8. Scoring defense: Duke remains last in the ACC giving up an average 39.8 points per game down from 44.7 points per game. The Blue Devils are number 113 in the nation. The 21 points given up to Maryland are the lowest yielded this season. The previous low was 27 points against Elon.
9. Opponent first downs: improved to number 10 in the ACC and number 93 in the nation by giving up 106 first downs. Opponents have rushed for 53, passed for 45 and been awarded eight via penalty.
10. Red zone defense: opponents have scored on Duke in 17 out of 19 red zone opportunities. Duke is tied with Georgia Tech for number seven in the ACC and number 91 in the nation.
Two turnovers, including a red zone miscue, and continued issues with giving up big plays combined to sink Duke on the road against Maryland. This team is improving week-to-week, as evidenced by total yards and points allowed trending down the last two games, but the Blue Devils remain a young squad which cannot afford to make mistakes.
With the powerful Miami Hurricanes headed to Wallace Wade Stadium on October 16, the Blue Devils need to take advantage of their bye week to focus upon eliminating turnovers and executing consistently on both sides of the line of scrimmage.